Actor to raise awareness in ITV's 'In Memory of Maudie' how his little girl died from the 'silent killer' aged just two-and-a-half
Jason & Clara: In Memory of Maudie (ITV1, 9pm)
Published 29th Mar 2023, 17:00 BST

- 3 min read
Every parent's worst nightmare is the loss of a child.
Thankfully, the majority of us never have to experience that feeling. But tragically, for actor Jason Watkins and his designer wife Clara Francis, that nightmare became a reality in the early hours of New Year's Day 2011 when their beautiful little girl, Maudie, passed away at the age of just two-and-a-half.
She'd gone to bed the previous night with what the couple had been told by doctors was croup.
"The symptoms seemed harmless," says Jason in a video he made for The UK Sepsis Trust, an organisation the couple have worked with since their daughter's death. "They seemed like any other cold, or flu, or stomach ache. But we now know that something else was going on underneath.
"If I was aware, I would have asked. There would have definitely been a different outcome, so the way that you can look after your children, and your families and the people you meet, is to take a deep breath and think, 'could this be sepsis? I'm going to ask someone', because you could save their life."
Jason is one of those actors who have been around for years and is instantly recognisable despite the public perhaps not knowing his name – he's appeared in such high profile series as Line of Duty, The Crown and McDonald & Dodds, and won a Bafta for his stunning performance in The Lost Honour of Christopher Jefferies.
He's been able to use his familiarity to raise awareness of the condition, which sees the body's immune system overreact to an infection, causing it to go into overdrive and attack the body's tissues and organs.
Jason and Clara are hoping their new documentary will boost the public's knowledge even more – after all, sepsis is not rare. Figures released by the aforementioned UK Sepsis Trust reveal that around 245,000 people in the UK develop it every year, and that as many as 45,000 of them die. It's often described as a 'silent killer', one that claims more lives each year than bowel, prostate and breast cancer combined.
Now, as the couple and their surviving children, Bessie and Gilbert, prepare to move from the flat where Maudie was born and died, they feel the time is right to open up about what happened.
During a recent appearance on This Morning to promote the Channel 5 series The Catch – in which he channelled his own experiences into playing a bereaved father – Jason said of the documentary, "…it is about spreading awareness… about letting people know that if you've lost a child, always mention it. It's never worse than feeling your child never existed. It is a sharing of our story – it was hard to make.
"It is to say to other families that there is help. By talking about it it can help you and make you feel less alone, because it is a very lonely journey."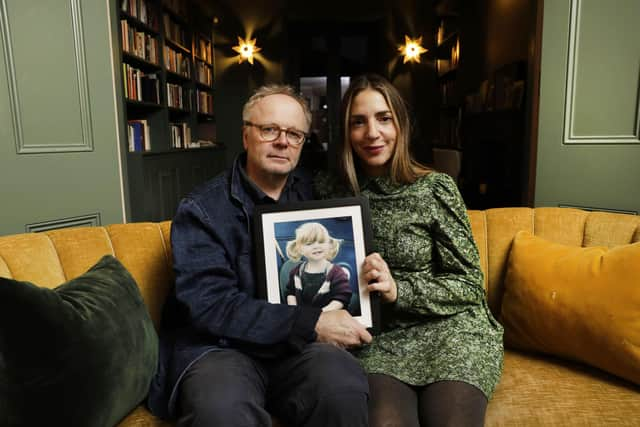 Jason & Clara: In Memory of Maudie won't be easy to watch either, but if it prevents just one death and saves one family such terrible heartbreak, tuning in will have been more than worth it.