Building Britain's new superhomes
Building Britain's Superhomes (Channel 4, 10pm)
Published 31st Jan 2023, 17:00 BST

- 2 min read
It's not unusual to see property developers on British TV – just switch on Homes Under the Hammer on a weekday morning to see people trying to make a profit from transforming houses.
However, the would-be entrepreneurs featured on the daytime show tend to be hoping to keep their budgets low, the plans simple and the turnaround time as short as possible. As the title suggests, Building Britain's Superhomes introduces viewers to a developer who's working on a whole different level.
The man in question is Nottingham-based Guy Phoenix, and this two-part series will take viewers into world of lavish multi-million-pound construction and interior design.
It's not just his business (or his name) that make Phoenix an obvious choice to be the subject of a two-part documentary. He's also gregarious, ambitious, and tenacious, and has his eyes on the ultimate prize – to build the world's most expensive home.
He also has a unique approach to his job. Phoenix is completely self-taught – he dropped out of school, and has no formal training or qualifications – and claims to be the only developer in the world building high-end homes completely ad-hoc without relying on plans or artist impressions.
If someone said that on Grand Designs, it would probably prompt Kevin McCloud to give a concerned monologue to the camera, but it's an approach that appears to be working. Fuelled by his vivid imagination, Phoenix's properties sell for millions.
As Clemency Green, Senior Commissioning Editor for Features and Daytime at Channel 4, says: "Guy Phoenix has a reputation for pushing the boundaries when it comes to building – and then pushing them some more… We can't wait to bring viewers an exclusive insight into the luxurious and flamboyant world of one of the country's most sought-after property developers."
Paul Barnett, Executive Producer for Gosh Television, adds: "Guy's phenomenal passion and imagination for creating luxury homes is utterly spellbinding, we're incredibly excited to share his unique style and charisma with Channel 4 viewers."
Now, cameras are following him as he takes on a challenging new project, which involves transforming a dated hillside house into a modern superhome, complete with luxury touches such as a glass flooring and an indoor pool with a waterfall.
He also takes viewers on a VIP tour of some of his other superhomes in the UK and the south of France, where he transformed a rundown plot into a palatial seven-bedroom villa, complete with helipad.
Perhaps most intriguingly of all, we're promised that the series will feature a glimpse of Phoenix's own des res. And while he may pride himself on not using drawings, it seems that the developer doesn't just turn up and hope for the best, as he's used his own property to test out some of his more audacious ideas, which have included installing a shark tank in his living room.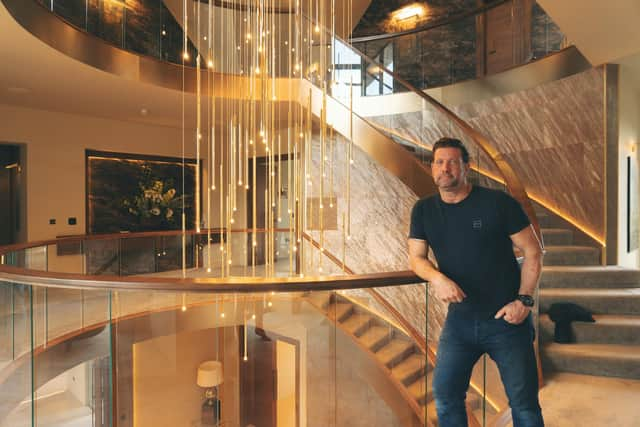 Well, what's the point of building extravagant creations for other people if you don't occasionally get to bring your work home with you?