Eurovision Song Contest 2023
Saturday: Eurovision Song Contest 2023 (BBC One, 8pm)
Published 12th May 2023, 17:00 BST

- 2 min read
Brace yourself for more bonkers acts, bizarre songs titles and eccentric performers – yes, it's Eurovision time once again. And 2023 promises to be something very special indeed.
The UK might not have won last time out, but Sam Ryder did come second with Space Man, the nation's best finish in donkeys years. Ukraine triumphed on the night, but due to the ongoing conflict in the country, we've stepped in to host on its behalf.
Graham Norton is taking charge of the proceedings at the Liverpool Arena, alongside singer/Britain's Got Talent judge Alesha Dixon, Game of Thrones, Ted Lasso and musical theatre luminary Hannah Waddingham and Ukrainian pop star Julia Sanina.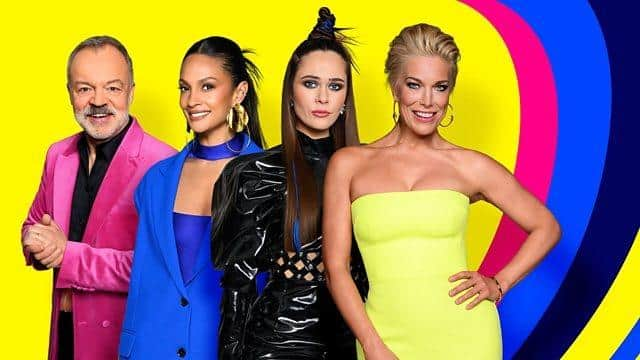 Norton is, of course, a veteran of the show, having taken over from Terry Wogan as the BBC's commentator in 2009 (he's sharing those duties this time around with Mel Giedroyc). Speaking to the broadcaster, he described Eurovision as "the greatest show on Earth" before adding: "Every year I'm involved it's a huge honour. This year is even more special and I personally feel a big responsibility to make our Ukrainian colleagues proud."
But it's an even bigger night for Sanina, a former finalist in her nation's version of Dancing with the Stars who was also a judge on the Ukrainian X factor.
"I'm so excited to showcase Ukrainian culture and creativity, and to help put on a show to make my country proud," she says. "I can't wait to get to Liverpool and meet the fans and the rest of the Eurovision family."
The Beeb went Eurovision crazy last week, broadcasting a number of programmes, including both semi-finals, in the run-up to tonight's main event. Hopefully that will have put viewers in the mood for this evening's epic entertainment extravaganza, which will also include performances from six iconic Eurovision acts – Israel's Netta, Italy's Mahmood, Iceland's Daði Freyr, Duncan Laurence from the Netherlands, Sweden's Cornelia Jakobs and Liverpool's own former entrant, Sonia, who came second 30 years ago – who are set to feature during the interval as the votes are counted.
Unsurprisingly, Ukraine will be at the centre of proceedings; folk-rap group Kalush Orchestra are going to perform last year's winning song Stefania. In the contest itself, the country will be represented by electronic music duo Tvorchi, who hail from the city of Ternopil in the west of the nation. Their song, Heart of Steel, will be performed in Ukrainian and English; rather topically it warns against the dangers of nuclear war.
At the moment, Tvorchi's chances of scoring back-to-back victories for their country are good, according to the bookies. If they do achieve that, it seems likely another nation would have to guest host in 2024, but maybe not the UK again, as our entry, Mae Muller's I Wrote a Song, is expected to do respectably, but without bothering the top spots.
Instead, Sweden's Loreen with Tattoo is making waves, followed by Finland's Kaarija with Cha Cha Cha. Even if the latter doesn't win, at least we can add it to the long list of barmy Eurovision song titles. Ding-dong-dang to that.