More top acts in Later with Jools Holland
Saturday: Later with Jools Holland (BBC2, 10.10pm)
Published 26th May 2023, 17:00 BST

- 2 min read
Veteran pianist and former Squeeze member Jools Holland has been responsible for bringing myriad emerging artists to national – nay, global – attention via this long-running music show.
Acts as diverse as Seasick Steve, Tori Amos, Sigrid and Wet Leg have all seen their popularity soar after appearing on Jools' show since it began back in 1992.
So, there will be a definite buzz about this week's edition, which features not one, not two but three acts making their Later… debut.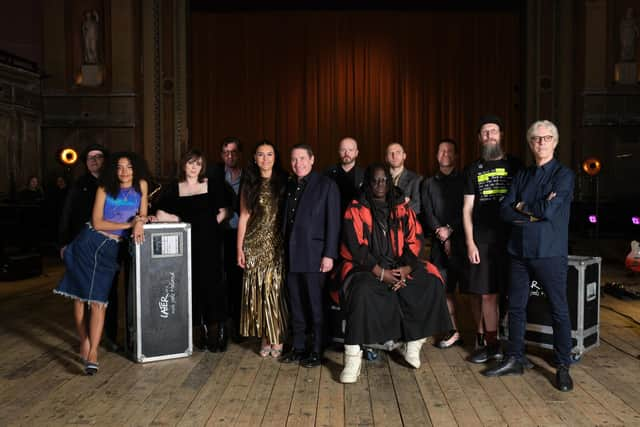 They range from brand-new, up-and-coming artists, to music industry veterans who are trying something new and moving their careers on a new trajectory.
For example, the new band Dave Okumu & The 7 Generations sees the renowned record producer collaborate with everyone from Grace Jones to ESKA, the latter of whom joins him tonight.
Singer, songwriter, producer and guitarist Okumu is best known for fronting the iTunes Album of the Year-winning neo-soul band The Invisible. As a producer he has worked with a wealth of talent, including Amy Winehouse, St Vincent, Jane Birkin, Toddla T, Róisin Murphy and Anna Calvi.
He also co-wrote and produced South London vocal powerhouse Jessie Ware's debut album, Devotion, which was named Album of the Year at the 2012 Mercury Prize awards.
Which goes to show what a small world the music biz is, as Ware also performs this evening in her own right. Ware has a new album, That! Feels Good!, which came out last month, so she'll doubtless have material from that which she'd love to share on this unique live stage.
Ware has already appeared five times since 2012 (six, if you count the archive performances re-aired during one of the lockdown episodes in 2021), whereas Okumu, despite his already great success, is new to the show.
Plus, making not only her Later… debut but also her first ever appearance on TV is East Londoner Olivia Dean, who performs the song Dive from her forthcoming album Messy. Dean has previously collaborated with Rudimental and has been releasing music since 2019, however Messy will be her first full-length studio album. Her style is utterly unique, with nods to influences including The Supremes and Amy Winehouse – but ultimately very modern and very, very 'London'.
Meanwhile another act that is new to the show – at least in its current form – is The Waeve, a two-piece supergroup of sorts, consisting of Blur's Graham Coxon and singer Rose Elinor Dougall, of indie-pop trio The Pipettes. Together they produce an intriguing mix of styles that has been summed up as "pastoral punk".
Completing the performing line-up are Nottingham duo Sleaford Mods, making their third Later… appearance.
The post-punk duo are known for their rough and abrasive style, and have a minimalist but very catchy sound. Songs typically explore the rigours of life in austerity-era Britain, reflected in the title of their 12th studio album, UK Grim.
Feeling less grim is Stewart Copeland, the American drummer for rock legends the Police, who will be chatting to Jools about his life and career – including his own forthcoming new album, Police Deranged For Orchestra.