The Apprentice
The Apprentice (BBC One, 9pm)
Published 18th Jan 2023, 17:00 GMT

- 3 min read
While thousands of firms are wondering how they are going to pay their staff and bills, the contestants featured in the latest series of The Apprentice have their eyes not only on a quarter-of-a-million-pound investment from Lord Sugar, but also some prime-time TV exposure.
"The world's now open for business," the tycoon optimistically said in the trailer for this new 17th series in December.
And he wasn't wrong, as he immediately sent the wannabes off to the sun-kissed Caribbean island of Antigua for their first task, a fortnight ago.
Despite the idyllic setting, that particular edition didn't end too well for many of the candidates, and the process didn't get any easier when they were challenged to flog bao buns to the British public the following week.
Tonight's show begins as the candidates are summoned to London's Regent Street Cinema for an exclusive screening.
There, Sugar reveals that they have to create a cartoon aimed at two-to-four-year-olds to pitch to industry experts.
Child's play, you'd think. However, while one team showcases incomplete characters, the other presents a storyline that is sketchy to say the least.
Then in the boardroom, it's curtains down for at least one of the candidates.
This third challenge should be right up the street of some of this year's 'highly animated' contestants, who, on the face of it, look like they would be more suited to the Love Island villa than the boardroom.
Take glamorous former flight attendant Victoria Goulbourne from Merseyside, for example.
She started her online sweet business during lockdown, and it became a social media success.
Before this series, she already had more than 12,000 Instagram followers, a number that will go up further after her appearance on The Apprentice.
And then there's Reece Donnelly. He runs a theatre school in Scotland, and has been in TV shows since he was a kid, as well as appearing in a telly ad for T-Mobile.
His selection alone seems to go against the show's original aim in 2005 to champion 'unknowns' and Sugar's words in 2011, when he said he wanted fame-hungry wannabes banned from his show.
There's no business like show business, these days, it seems.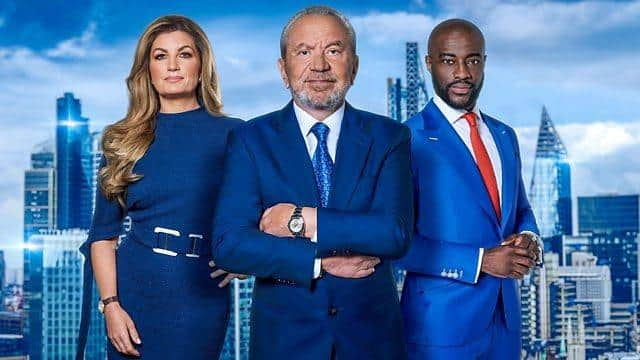 Whether Victoria and/or Reece have made it past the first two shows remains unknown, but one thing's for sure, they're bound to face stiff competition for Lord Sugar's dosh from the other candidates.
At the beginning of the series, there was an eclectic mix of business people including two hairdressers, a city banker, a construction company director, a financial controller, an antiques dealer, a martial arts instructor, a pest controller, a professional canon-firer, a gold medal-winning boxer, a bridal boutique owner, a technology recruiter, a water sports equipment salesman, and a safari guide.
Two of those candidates even had the audacity to call themselves the 'James Bond' and 'Kim Kardashian' of the business world, but will either of those be hearing those infamous words "You're fired!" tonight?
For those who make it past the 'cartoons for kids' task, there are more challenges to negotiate, including hosting immersive events and exploring the world of beauty products.
And you only have to take one look at the contestants' social media accounts to know that's likely to be the one most are waiting for.