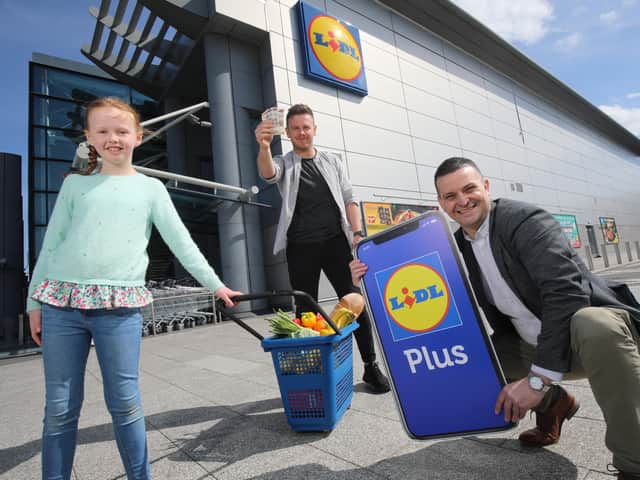 The McGovern Family Celebrates Extra Savings with Launch of Lidl Plus Rewards App (1)
The statistic was unveiled as Lidl Northern Ireland, confirmed the launch of its brand new instant customer rewards app Lidl Plus which will deliver even more savings and benefits to shoppers across the retailer's network of 41 stores.
The announcement comes after a successful trial and roll out of the Lidl Plus App in the UK and in the South last summer and in response to changing consumer habits and a greater interest from shoppers on using instore grocery discounts.
Lidl Plus is designed to deliver customers with instant rewards and instant savings each week through a phenomenal range of discounts and freebies across Lidl Northern Ireland's selection of 2,500 permanently listed items.
New research published this week by Lidl Northern Ireland also reveals that nearly three quarters of shoppers (68%) in the Derry City & Strabane District Council area are spending more on groceries now than they did pre-lockdown. Overall, almost a quarter of shoppers (23%) say they are spending a lot more.
More than half of local shoppers (58%) say they actively seek out supermarket loyalty discounts to save on their regular shop, whilst 7 out of 10 people say that low prices influence their grocery purchases more so now than pre-lockdown.
Gordon Cruikshanks, Head of Sales Operations Lidl Northern Ireland, said:
"We're delighted to roll out the Lidl Plus app across Northern Ireland. As the region's fastest-growing supermarket, we welcome more than 350,000 customers through our doors each week who visit us for our great quality, low price produce. Value is an incredibly important factor for customers which our own research confirms, with half of all consumers heavily guided by low prices, particularly given the financial pressures placed on families over the last 12 months.
"We're thrilled to now offer our customers even more value and bring additional savings and incredible discounts across our wide range of quality products with Lidl Plus. The app is so easy to use and customers can register their profile in just 90 seconds to instantly access rewards and begin saving at the checkout."
The Lidl Plus app also features additional functionality further benefitting customers, including a nifty store locator so shoppers can find their closest Lidl while off on staycation this summer, information on opening hours, weekly leaflets, an in-app shopping list and a digital receipt library for quick and easy viewing.
Customers can also scan their Lidl Plus app at the check out to receive a 'Scratch & Win', digital scratch card, revealing further instant savings which can be redeemed in-store against Lidl Northern Ireland's quality products.
Lidl Plus is now available to download on the iOS and Android app stores. Customers simply download the app to their phone and register their details to begin receiving weekly coupons which can be scanned and redeemed at the checkout every time they shop with Lidl Northern Ireland.