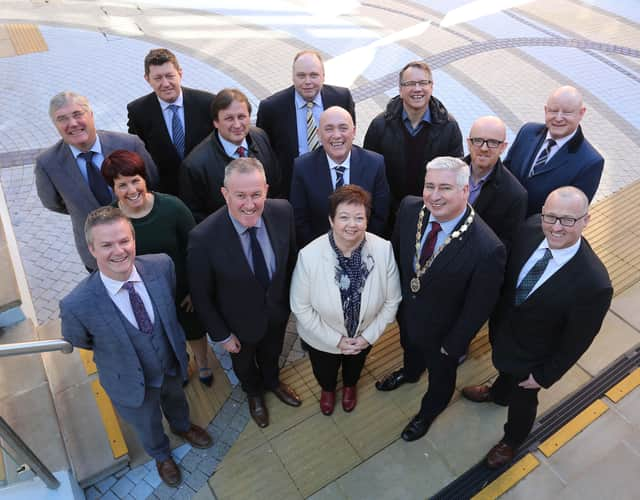 Finance Minister Conor Murphy with members of the Londonderry Chamber of Commerce during his visit to the City. Included, from left , are Malachy Oâ€TMNeill, George Fleming, Jennifer McKeever, Greg McCann, Leo Murphy, Ciaran Oâ€TMNeill, Kieran Kennedy, Dawn, McLaughlin, vice-president, Steven Lindsay, Redmond McFadden, president, Damien Gallagher, Gavin Killeen and Aidan Oâ€TMKane.
Mr. Murphy met John Kelpie, Chief Executive of Derry City & Strabane District Council and a delegation of businesses including Redmond McFadden the President and Dawn McLaughlin Vice-President of the Chamber of Commerce.
It was his first trip to Derry since he promised he would recommend that the Executive provide match-funding for both the City Deal and the Inclusive Future Fund.
A total of £105m has already been allocated to the City Deal (£50m) and IFF (£55m) by the London government. Match-funding, if it is delivered, will increase this to £210m.
Mr. Murphy said: "I have already expressed my support for the City Deal and the IFF, which has the potential to unlock over £200m of investment in the region.
"I met with the new interim Vice-Chancellor in his first week in office and discussed the commitment in New Decade, New Approach to expand Magee University to 10,000 students.
"This project is key to transforming the north west economy."
President of the Chamber, Redmond McFadden said: "Mr Murphy's announcement last week that he is to table a paper to the Executive seeking to match funding already committed by the UK Government for the Derry and Strabane City Deal is excellent news for the region.
"The City Deal and Inclusive Future Fund comprise a £105m investment in the North West which means economic growth and innovation, more well-paid and secure jobs, and will ultimately help to address years of regional imbalance.
"The 'New Decade, New Approach' agreement makes several commitments to the North West including infrastructure improvements, the establishment of a new Graduate Entry Medical School, the expansion of Magee, and other initiatives which will boost the local economy."