FinTrU doubling Derry workforce with £20m investment and 300 new jobs
FinTrU has announced plans to invest over £20m by 2027, which will see the creation of 300 new jobs in Derry.
Published 6th Feb 2023, 11:07 BST

- 4 min read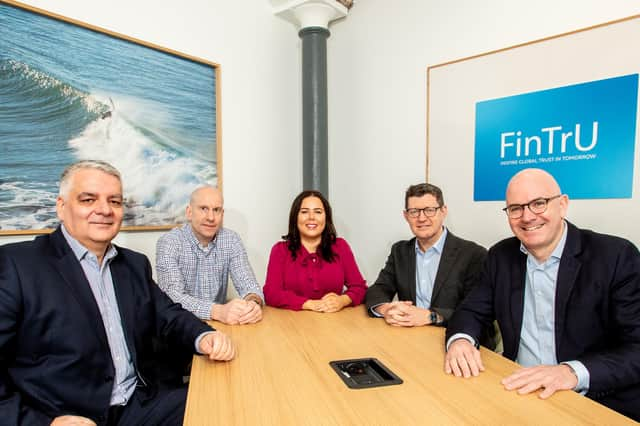 The creation of the new roles with support from InvestNI will see FinTrU's North West operation double in size.
The company also plans significant investment in the skills of its staff across the north.
Darragh McCarthy, who founded the fin-tech firm in 2013 described the latest expansion as "a significant step which will see FinTrU grow to over 1,500 employees in Northern Ireland and significantly increase our competitiveness, catapulting us into a new era of business growth".
He said: "FinTrU is celebrating its 10th birthday in 2023 and the North West holds a special place in the heart of our business. Since making our first investment in Derry/Londonderry in 2018, we have been blown away by the talent and were able to surpass our initial jobs target one year ahead of schedule.
"Following the announcement of our Letterkenny site last year, our newest investment is a demonstration of our ongoing commitment to develop and champion the North West region and our staff who have helped us to grow here.
"Invest NI has been a vital partner in enabling our impressive growth to date and also in securing the long-term sustainability of our operations in both Derry/Londonderry and Belfast."
Greg McCann is Executive Director & Head of FinTrU's North West Office.
He said: "FinTrU is an indigenous company to Northern Ireland and our people strategy is to attract, develop and retain the best talent in the marketplace.
"There are a lot of high-quality graduates coming from the local universities and colleges who have supported us to win new customers and grow our sales globally.
"We have also welcomed a large number of experienced professionals, who have returned to the North West to pursue the high-quality careers we can provide. It was a result of our fantastic talent that allowed FinTrU to win the Large North West Business of the Year at the North West Business Awards in 2022."
Kathleen McDermott, FinTrU Executive Director, added: "We have tripled our turnover in the North West in the last three years and as we further invest in the development of our people, we want to equip them with the skills and capabilities to further drive the growth and success of FinTrU. Our partnership with Invest NI empowers FinTrU to deliver specialist skills development programmes, which are critical to our future growth."
The company said the investment will offer valuable job opportunities for graduates of all disciplines and those wanting to change careers. Roles range from graduate roles to more senior experienced positions.
Speaking whilst on a visit to the company's City Factory Office, Mel Chittock, Interim CEO of Invest NI said: "Job creation is only one part of the equation to build a productive, knowledge based, export driven economy; skills development is another.
"This investment delivers on both: 300 new jobs and a skills development package, which will see the company invest in its greatest asset, its staff.
"A highly and appropriately skilled workforce has a crucial role to play. The increased skills and capabilities that FinTrU gains will enable faster and increased company growth and will spearhead the development of a new Financial Services cluster in the North West region.
"We have had a long partnership with FinTrU, since we first supported them to invest in Northern Ireland in 2014. We are pleased to be able to support this latest investment. Its emphasis on developing future leaders fits with the Department for the Economy's 10X Vision by creating valuable job opportunities and addressing skills imbalances in the North West region. I am pleased to say that once in place, the jobs will contribute £8.6m of additional annual salaries to the local economy."
The development has been warmly welcomed by local political representatives.
SDLP MLA Sinéad McLaughlin said: "Very welcome news released this morning that FinTru has announced the creation of 300 new jobs in Derry, doubling its operation here and contributing to over £8 million of additional annual salaries."
Sinn Féin MLA Pádraig Delargy stated: "Great news that FinTrU has announced 300 new jobs in Derry as part of a £20 million expansion. These are exactly the type of high quality graduate jobs which Derry needs."
DUP MLA Gary Middleton said: "This is a hugely significant announcement for FinTrU, the North West region and for Northern Ireland as a whole. It is not just the creation of 300 new jobs in Londonderry, but an investment in skills development across its Northern Ireland workforce.
"FinTrU has a strong track record of investing in its staff. Its academy scheme run alongside the Department for the Economy has provided a fantastic opportunity for many local people to build a career with the company.
"With a contribution of over £8.5million in salaries alone, it will provide a huge boost to the economy in the North West area when the jobs are in place. At a time of economic uncertainty, this provides a positive boost for the region."
Sinn Féin MLA Ciara Ferguson stated: "Fantastic news that an additional 300 new jobs have been announced for Derry this morning. This 20m investment by FinTrU is hugely significant for the city and region. Huge congratulations to everyone involved."
FinTrU is a multi-award-winning technologically enabled Regulatory Solutions company that works with Global Investment Banks. FinTrU specialises in the areas of KYC, Compliance, Legal, Risk & Controls and Operations. The Financial Times has named FinTrU as one of Europe's fastest growing companies for two years in succession.