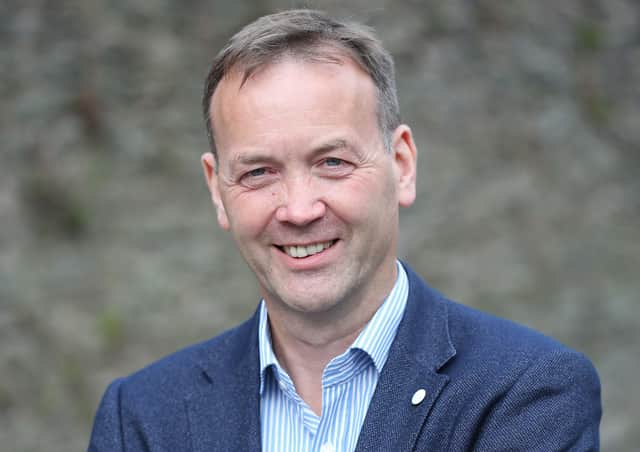 The long-awaited reopening of 'non-essential' retail finally arrived last Friday and the response from the public all over Northern Ireland was phenomenal.
Furloughed staff were delighted to be back on the shop floor, ready and waiting with a friendly smile to welcome the return of new and familiar faces to their favourite stores.
Footfall on the first day exceeded all expectations and our hope is it remains high as people embrace a newfound appreciation for being able to browse and buy in-store rather than simply just online.
Stores opened at 8am on Friday morning as non-essential retails outlets reopen as lockdown restrictions are eased. Photo: George Sweeney / Derry Journal. DER2117GS – 035
It was a joy to walk around Foyleside Shopping Centre and see the customers flocking back, stop for a chat and hear them say how much they had missed being in the mall – and bagging a bargain. We really missed the buzz of shoppers being all around the building, catching up with one another and the workers who have become friends over the years.
Like other shopping centres and retail outlets all around the UK, Foyleside is once again fully operational and keen to reassure shoppers that we still have all the required safety measures in place. A one-way system is in operation, with ample hand sanitiser stations throughout the premises and socially distanced places marked out on the escalators as well as to queue for individual shops. Face-masks must be worn by everyone unless exempt and we appreciate our customers' compliance for the safety of everyone.
The reopening has highlighted the importance of bricks and mortar retail for our towns and cities. Nothing beats being able to ask a sales assistant for advice, to see and feel an item for yourself and the convenience of being able to bring it home right away instead of having to factor in delivery dates and times.
We appreciate that many people may still feel uncertain about resuming their previous routines and that is why it is vital to accommodate all kinds of shopping services including 'click and collect' which has become hugely popular.
Our 25th anniversary last year brought home to us just how central our shopping centres are to both commercial and social life in the 21st century. It's about so much more than just retail; we are a community too. During the lockdown when only our essential stores were open, at Foyleside we continued our tradition of decorating the centre for important calendar events including the arrival of Spring.
The 'New Beginnings' display by Keep Her Knit was so impressive that it featured on BBC's The One Show and proved very popular with those who visited us for their vital supplies, lifting the spirits during darker days.
Thankfully, 'new beginnings' are here for everyone as we look to the future with optimism.
A day after reopening, we welcomed our newest tenant bPerfect, much to the delight of the many MUA fans in Derry and surrounding region. By the end of this month, cafes and restaurants including those within Foyleside will be able to allow customers to sit in. Later this summer, Frasers will take up residence as an anchor tenant and offer a whole new range of high quality products.
The past 14 months have been incredibly challenging for retail, so we are extremely grateful to be open and appreciate all the goodwill which our customers have shown us. Their continued support in the months ahead, as businesses attempt to return to normal trading following the shock of the pandemic, will mean we can eventually get back to how things used to be and see business boom once again.
Fergal Rafferty is Manager of Foyleside Shopping Centre