£7.2m A6 Drumahoe Junction Services granted outline planning permission
Outline planning permission for Drumahoe Junction (A6) Services with associated facilities was given approval at a special sitting of Derry City and Strabane Planning Committee.
By Gillian Anderson
Published 30th Mar 2023, 16:39 BST- 4 min read
Updated 30th Mar 2023, 16:40 BST
Watch more of our videos on Shots!
and live on Freeview channel 276
Visit Shots! now
Facilities will include a filling station, car wash, cafe, restaurant, shop, tourist information, toilets, ATM, amenity/picnic area with parking for cars, caravans and motorhomes, coaches and lorries and associated access and landscaping.
The retail assessment submitted in support of the application states that the proposal will provide approximately 80 construction jobs, 50 jobs when operational, represents an investment in Drumahoe of £7.2million, will provide contracts to local suppliers and will provide rates income for council of about £110,000.
This planning application was previously presented to the Planning Committee in June 2021 and was deferred to allow the agent to submit the necessary information to overcome the Roads issues.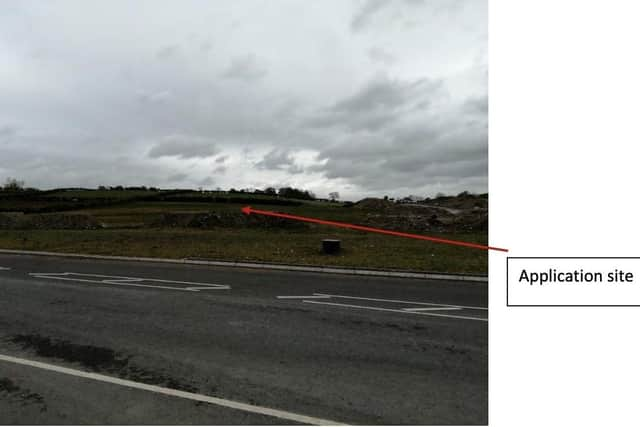 Former planner and Chair of the River Faughan Anglers, Mr Dean Blackwood spoke of concerns about the environmental impacts and compliance with planning policy and environmental law.
He said; "Our concerns previously raised are about ensuring that it is properly assessed for its environmental impacts on our river and compliance with planning policy and environmental law. From the committee report before you we remain unclear as to how this has been achieved.
"The public requires proper access to key council reports that inform this committee's decision. One of these is the Habitat Regulations Assessment (HRA), as far as I can see, that has not been made available on the portal.
"The HRA is the most important document that will inform your decision. As decision makers the law requires that you must be satisfied that the absence of adverse effects have been proven and if you're not satisfied, that it has been proven that Habitats Regulations prohibit you from granting permission. Yet this HRA has been withheld from the planning portal. This is not a problem with the portal, rather it's a persisting problem with the council since 2016. It repeatedly fails to promptly upload these key assessments and citizens should not have to keep seeking out a document that the council is legally required to hold and should be making publicly available online.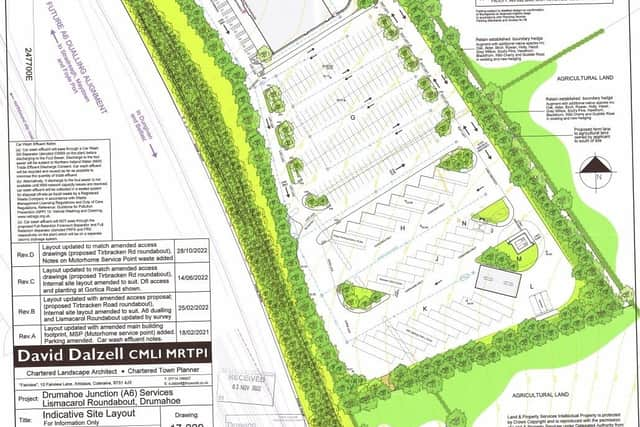 "One thing I noticed that wasn't mentioned at all is climate. You will be aware that this council has declared a climate emergency and published a climate adaptation plan. The site, if my calculations are correct, is estimated to generate some 2.4 million vehicle movements per year. Yet the effects of such a major emitter on climate does not appear to have been properly addressed. It's for those reasons that we are not happy that it has been properly assessed for its environmental effects."
David Dalzell, the agent for the applicant, W&J Chambers Ltd, spoke in favour of the proposed development, stating; "This is a £7.2 million scheme with convenience shop, hot food, extended hours of operation, truck and coach parking, welfare facilities for drivers to wash, change, rest and refresh and these are critical for road safety.
"Recently, we're seeing challenges faced by the haulage industry because of driver shortages and a lack of proper facilities on the road network is a major issue. But all road users including local people and tourists visiting the city and the northwest will benefit from this proposal, it's not just commercial drivers. There will be facilities for caravan and motorhome tourists, a play area for children and picnic areas.
"The proposal has support from industry, transport groups, campervan groups and local people. We have demonstrated a clear indication of need for this type of facility in this location. The location, siting and integration have been deemed acceptable with no adverse impact on the countryside and is acceptable in respect to natural heritage, archaeology, flood risk, residential amenity and environment. It is acceptable to DFI Road, not only the local office, but the strategic roads section as well."
The officers recommendation to approve the application contained a large number of conditions, however, Mr Dalzell confirmed ' there is nothing that we see that shouldn't be achievable.'
A council officer confirmed that the HRA had been carried out although it is not available to view on the planning portal before city solicitor Philip Kingston stated: "I think it would be appropriate, certainly before any decision notice should issue in relation to this matter one way or another, that that document should be uploaded and that people would have an opportunity to make any representations that they would in relation to that."
Apologising for the issues in relation to the uploading of the HRA , Mr Kingston stated it would be uploaded onto the planning portal within the next 48 hours at the latest. He added that a decision regarding the matter will not be made for four weeks to allow for consideration of any material representations.
Cllr Christopher Jackson made a point for the record stating; "I wanted to highlight the fact that this is an open application and that there are further steps in the process of this application. So it doesn't mean that the absence of a HRA report on the portal has been completely dismissed and ignored."
He added; "So in that regard, it does give us a bit of time and it does give all interested parties time to consider the report."
Members voted in favour of the recommendation to approve and the HRA was subsequently uploaded to the planning portal that day.