'All the consultants have told me that it is a miracle I'm alive today'
A local man who had an accident on his family farm last year has said he would not be alive but for the Air Ambulance.
Friday, 15th May 2020, 10:49 am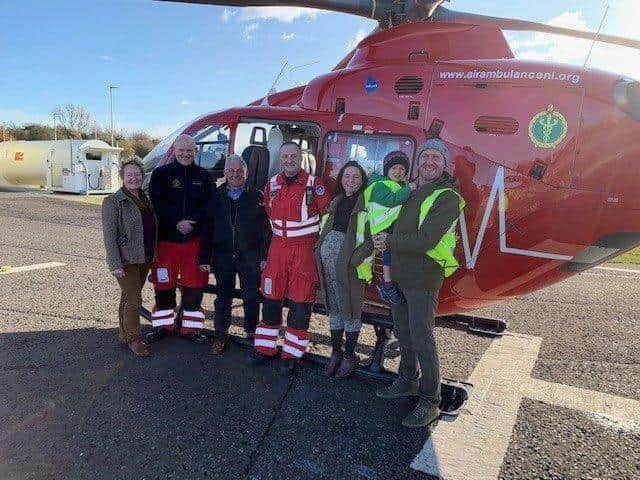 David Thompson, who was injured in a farm accident last year, pictured with and his family, HEMS paramedic Jason Rosborough and HEMS Doctor Russell McLaughlin.
David Thompson, from Sion Mills, was working up a ladder on the farm last April, cutting strings on large straw bales, when the accident unfolded.
"I stretched to cut the last of them and the bale sprung open, pushing the ladder and catapulting me from it, 14 feet to the ground," David said.
"I have no memory of what occurred next but family and those at scene have pieced it together."
Press Eye Belfast - Northern Ireland 9th November 2016 One of the two helicopters which will deliver Northern Irelandâ€TMs first ever Helicopter Emergency Medical Service (HEMS) is in Northern Ireland for a three-day flying visit. Picture by Jonathan Porter/Press Eye
He managed to phone his son and a contractor on the farm site came to check on him.
"I was still conscious when Phillip came into the barn and soon after the 999 call was made. Phillip told me not to move despite my appeal for help to get up. The NIAS road crew arrived on scene and soon determined that the HEMS Team were needed."
Air Ambulance Northern Ireland is the charity that provides the Helicopter Emergency Medical Service (HEMS) for the north, together with the Northern Ireland Ambulance Service.
It takes £2million each year in fundraising to keep the service operational.
Due to fog on the morning of the accident, the HEMS team had to detour and fly at a higher altitude than usual for visibility.
Once the team had safely landed, the HEMS team consisting of Paramedic Jason Rosborough, who is from Derry, and Doctor Russell McLaughlin worked with NIAS paramedics, to carry out critical care interventions.
During the fall, David had hit a crate at the side of the bales and banged his head on the way down.
Whilst this had broken the impact of the fall, it resulted in an extensive head injury.
David was placed in a medically induced coma, a Critical Care Intervention that the HEMS team can perform at the scene.
The Sion Mills man spent a total of five weeks in hospital, three in the Royal Victoria Hospital and a further two in Musgrave Park Hospital.
His recovery is continuing, with the head injury being the biggest factor, but his family are so pleased he is alive and has made remarkable progress.
David's wife, Sally, said: "As well as the fantastic care from HEMS and in hospital, David had many things on his side which have helped his recovery journey; being fit and healthy prior to the accident, a determined nature, strong faith and good community and family support. For all this we will be forever grateful for the chance that Air Ambulance offered."
The Thompson family visited the Air Ambulance base and were reunited with HEMS Doctor Russell McLaughlin, one of the team who had treated David at scene.
"I have to say, that without Air Ambulance NI I would not be here today," David said. "All the consultants have told me that it is a miracle I'm alive. It is so important to support this charity to ensure it continues providing critical care. I had hoped to organise a fundraising event for Air Ambulance this year to help with the daily funding need of £5,500, but given the health pandemic that is unfortunately on hold. So, my appeal to the farming community as well as staying safe is to continue to support the Air Ambulance by donating what you can."
Barclay Bell, Trustee of the charity and a farmer, said:"Farming and agricultural accidents have the propensity to be serious in nature; in fact, the very first Air Ambulance NI call out was to a farming accident. And now social distancing measures can mean increased lone working; we encourage our farming and rural community not to take unnecessary risks and follow safety procedures."
Glenn O'Rorke, Operational Lead for the HEMS said: "Despite lockdown the incident rate of farming accidents is as prevalent as ever. If a serious accident does happen, don't hesitate to call 999."
He added that is only with continued support "that we can fly and continue to help."
The charity is offering membership of its Club AANI for £8 per month. For more information visit www.airambulanceni.org.