Head of Derry Irish school Gaelscoil Na Daróige insists on space growing school deserves
The principal of a growing Irish-language primary school in Derry insists the school deserves the same standard of accommodation as that afforded to English-speaking schools in the city.
Monday, 24th February 2020, 9:36 am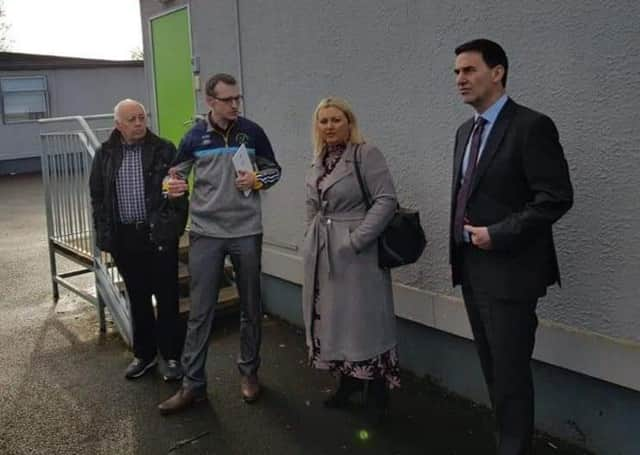 Fiachra Ó Donghaile, headmaster at Gaelscoil Na Daróige in Ballymagroarty, said the school would work with the Department of Education to secure the space it needs for its steadily growing pupil intake.
"Naíscoil and Gaelscoil na Daróige are delighted to have experienced significant growth in recent years. We have employed a qualified teacher for our voluntary nursery as we strive for statutory status. Enrolment has grown by almost 30 per cent in three years. The progress of the school has led to an increase in the school's enrolment number to 100 for September 2020," said Mr. Ó Donghaile.
He said more and more parents were becoming aware of the benefits of bilingualism.
"As a result of this predicted increase in parental demand, Gaelscoil na Daróige has been rapidly outgrowing its current site and is in urgent need of additional space and accommodation. The Area Planning Recommendations for Irish-medium Primary Provision in Derry City 2019 makes explicit recommendations regarding accommodation needs and requirements," he said.
The local principal was speaking as the Minister for Education Peter Weir confirmed the Education Authority has been asked to explore the feasibility of providing funding for the expansion of the local gaelscoil.
Mr. Weir said: "Gaelscoil na Daróige has four classrooms. The school's current enrolment of 87 pupils is on the borderline between a 3 and 4 class school. Therefore, given that the school currently has access to four classrooms, it would not be eligible for an additional classroom.
"That said, the school operates on a particularly constrained site and some of their existing classrooms are undersized. Taking this into account together with the predicted rise in numbers of pupils entering Rang 1 over the next few years, I have asked my Department to instruct the Education Authority to carry out a feasibility study to ascertain if additional accommodation would be required. Regardless of the outcome however additional accommodation will not be in place for September 2020."
He was pressed on the matter by Sinn Féin education spokesperson Karen Mullan who pointed out that an additional classroom had been proposed in the Area Planning Recommendations for Irish-Medium Primary Provision in Derry. She said: "School and sectoral leaders, as well as the wider community, are clear that the Department has been well aware of the need for additional land and accommodation at the school for many years. Gaelscoil na Daróige were hopeful that they would have this expansion in place for the intake of pupils in September 2020. Instead, at this late stage, the Department of Education are still only at the stage of seeking valuations.
"This is simply unacceptable, given that the school has been operating in temporary portacabin accommodation for 15 years while pupil numbers continue to grow. The Minister must approach this with a sense of urgency and provide these children and their teachers with the facilities they need and deserve."
Mr. Ó Donghaile said the school had been pressing for more space for years.
"Gaelscoil na Daróige have constantly, consistently and regularly made the DE aware of the growth in our numbers and would implore them to take swift action that will enable Gaelscoil na Daróige to continue its significant growth. This need for swift action was stipulated in the Area Planning Recommendations, to ensure that the accommodation at the school can adequately provide for all the pupils who wish to avail of Irish Immersion education. The standard of accommodation at Gaelscoil na Daróige should be the same as that provided in the local English Medium Primary Schools."