North West Regional College and The Open University form ground-breaking partnership
North West Regional College (NWRC) and The Open University (The OU) have announced details of a unique educational partnership which is set to enhance the future career aspirations of learners across the North West.
Published 30th Jan 2023, 17:34 BST

- 2 min read
Updated 30th Jan 2023, 17:34 BST
In a first for the region, both organisations have formed an alliance which will see the introduction of a new range of university level courses to be delivered by NWRC, and accredited and validated by the OU, from September 2023.
The partnership will feature new degree level opportunities for learners in Cyber Security, Housing and Healthcare in the first instance. (Subject to validation approval).
It is intended that this initiative will result in greater choice for local learners at higher education level, as well as fostering growth in local employment, while addressing current levels of skills shortages and demands from employers within some key regional industry areas.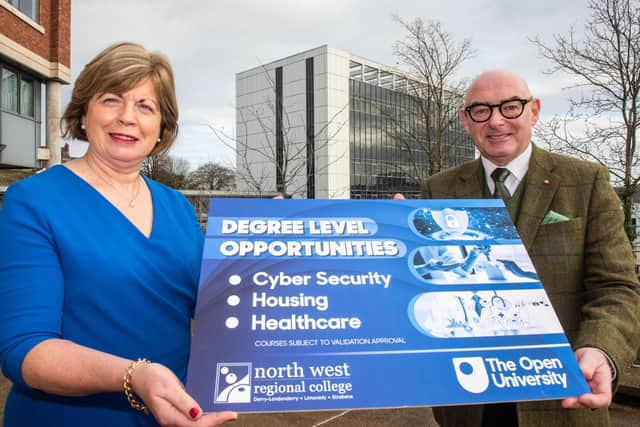 Speaking at the launch, Dr Catherine O'Mullan, NWRC Director of Curriculum and Academic Standards, said they are thrilled with the partnership.
"This is very exciting news for higher level learning for the North West region. Our partnership with The Open University is the culmination of extensive diligence and hard work from both organisations, as well as significant consultation with a number of local employers, over a two-year period. We are thrilled now to be working with the OU in preparations to deliver a new era of university level education for local learners."
John D'Arcy, Director of The Open University in Ireland, said he hopes the partnership will go from strength to strength.
"The Open University is delighted to partner with North West Regional College to provide greater choice and provision of higher education courses to the North West Region."
He added: "We hope that this partnership will grow from strength to strength over the next few years to improve university level education and positively impact the economy and skills supply in the area."
It is expected that applications for these new courses will open from February 2023.