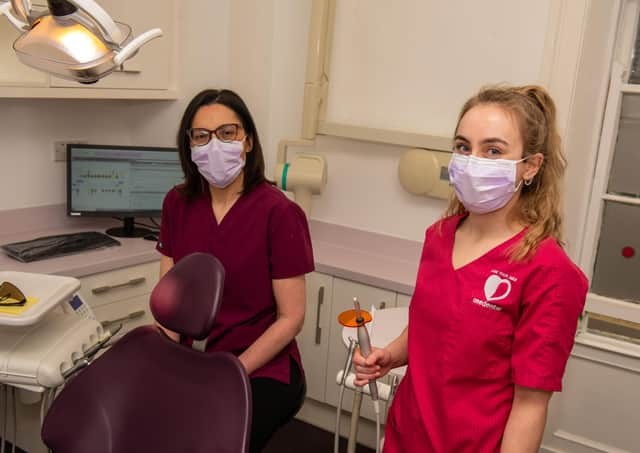 Dental Nurse Niamh Irvine, pictured with Dr. Deirdre Ball, One Dental, Queen Street. (Pic Martin Mckeown).
Niamh Irvine is now fully qualified after studying for the C&G Level 3 Apprenticeship at NWRC
The Northern Ireland Apprenticeship Awards 2021 will be hosted in a special 'virtual' awards ceremony on Wednesday 28 April 2021 – one of the highlight events during Northern Ireland Apprenticeship Week 2021, which will run from April 26 to 30, 2021.
NWRC is currently recruiting students for a new Dental Nursing Apprenticeship course due to start in April 2021.
Niamh said: "At school, I had never considered dental nursing as a career choice, I initially began the role of a dental nurse as cover. From that I gained an interest in the role as a career. With the support of the practice I am employed at, I was able to apply to NWRC Limavady, for an Apprenticeship. Working within dentistry, I have gained an insight into the possibility of other job roles within the industry.
"I am absolutely delighted to be nominated for the NI Apprenticeship awards. I am proud of my achievement of completing the dental nursing course, qualifying and being able to register onto the GDC. I believe that apprenticeships should be recognised on a wider scale as they allow the individual to carry out their study whilst also experiencing the 'real world' and the insight into working environments.
"I now work full time at One Dental, where I completed my Apprenticeship, and I would highly recommend the dental nursing apprenticeship course for people that are considering dental nursing as a career. "
Dr. Deirdre Ball, One Dental, who nominated Niamh for the award said: "Niamh Irvine is a dedicated and committed member of our team at One Dental. It has been wonderful to be part of her career journey and to see her qualify as a Dental Nurse. She is hugely popular among the surgery staff, and professional and courteous to all our patients. She is thoroughly deserving of this award."
Kim Boyle, Curriculum Manager in Health and Social Care Studies at NWRC said: "Our congratulations to Niamh on her nomination for this award. Niamh is now fully qualified and working within the industry after completing her apprenticeship and she deserves every success.
"The dental industry has expanded in recent years growing more opportunities for dental nursing, with lots of opportunities for continued training and development.
"NWRC is currently accepting a limited number of applications for a new Dental Nursing Apprenticeship course due to start in April 2021. This is a fantastic opportunity which allows students to earn while they learn, on their dental nursing pathway."
The closing date for application is Thursday, March 11 at 12 noon. You can apply at www.nwrc.ac.uk/apply.