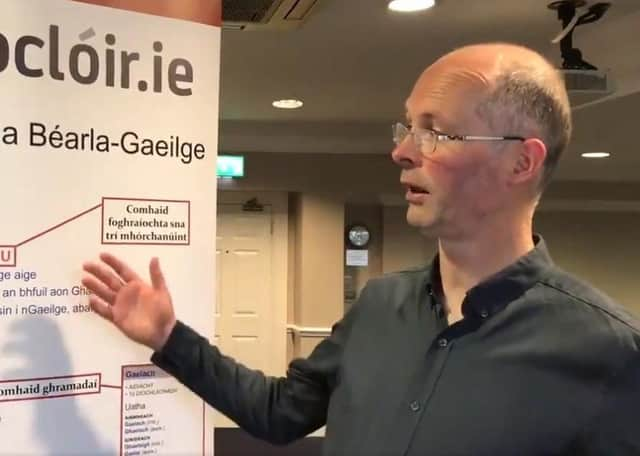 Pádraig Ó Mianáin.
It was a remarkable piece of scholarship, with contributions from leading language experts of the day.
Until recently it has been a standard reference book but it has never been revised since publication. The work presents the student with a number of problems.
For example, some of the entries do not follow the new Standard Irish spelling and have to be checked. The biggest problem, however, is that it was based on Harrap's Shorter English- French Dictionary which was due to be revised. This meant that it was out of date almost as soon as it was published.
You will not find the word 'computer' in the dictionary, for instance.
But, 'Faigheann foighne fortacht'--Patience gets its reward.
The new Concise English- Irish Dictionary is without doubt the most important Irish language publication in years. It has been compiled by a small team of researchers and edited by Pádraig Ó Mianáin.
Pádraig is a native of Derry. His immediate family and his extended family have made, and continue to make, an outstanding contribution to the Irish language and to Irish culture in Derry and beyond.
The book itself is an impressive volume. It is printed clearly on good paper. It contains 1,800 pages and has more than 30,000 entries.
There are more than 139,000 examples of the use of entries in words and phrases. The contents are completely up to date.
Some examples: selfie- féinín; fake news- bréagnuacht; social distancing- scaradhsóisialta. Those who think there are no swear-words in Irish will be disillusioned.
The dictionary records the language as it is today, both written and spoken, elegant and vulgar. This is Irish 'idir mhaith agus olc' - warts and all. The inclusion of slang reflects how the language has developed and should not be criticised.
The Concise English - Irish Dictionary is an abridged version of Foclóir.ie, an online dictionary which is being added to constantly under the direction of Pádraig Ó Mianáin.
The two dictionaries, sponsored by Foras na Gaeilge, show that Irish is not only a historical language but that it is also a modern dynamic language which can deal with any situation.
The new dictionary contains an account of the varieties of Irish as well as an excellent grammar section. You get two books for the price of one! Costing £25/ €30, it is very cheap compared to similar dictionaries.
It can be bought at local bookshops or online. Google: New English Irish Dictionary. Tá an-díol ar Fhoclóir Uí Mhianáin - The Ó Mianáin dictionary has been selling like hot cakes.(See 'cake', page 185.)