Shauna Doherty: It isn't very wise of Chris Heaton-Harris to mess with Derry mammies
Derry mother Shauna Doherty told a rally against budget cuts on Thursday that she feels as though the scrappage of the extended schools scheme is an attack on her and her son.
Published 26th May 2023, 11:04 BST

- 2 min read
Updated 26th May 2023, 11:12 BST
Ms. Doherty railed against the cuts to the programme which supports breakfast clubs and other extra-curricular initiatives at the Day of Action demonstration at Ebrington.
"I really wish that I wasn't here today doing this but the fact of the matter is that we don't even have a Minister of Education to write an angry letter to right now so here we are.
"Over the last few months there has been a lot of political talk. People have been bombarded with slogans and schemes and I just want to really make sure that everybody here understands what it really means when people say they have cut the extended schools scheme.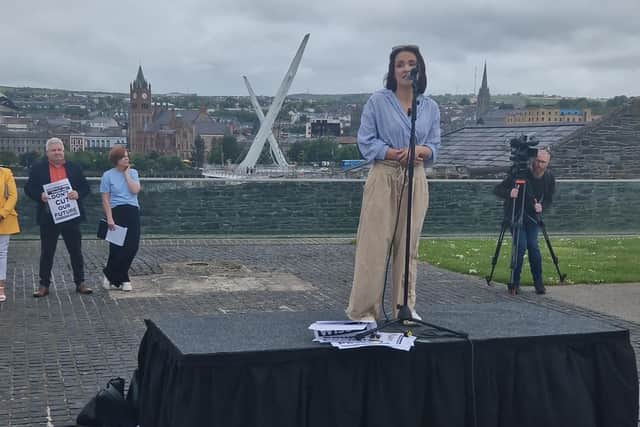 "The extended schools scheme was introduced in 2006 and last year 471 schools in the North benefited from it. Different head teachers can use the money for different things but to even call it an extended schools scheme is to me really misleading because that kind of makes you think that people are getting a free upgrade to first class and that's not what is happening.
"The scheme is there to ensure parity of education. You can only benefit from the scheme if 37 per cent or above of your pupils are entitled to free school meals or if 50 per cent of them come from what the powers-that-be categorise as a disadvantaged area.
"So it is not an exaggeration to say that they are quite literally taking the food out of the mouths of children. They are cutting breakfast clubs."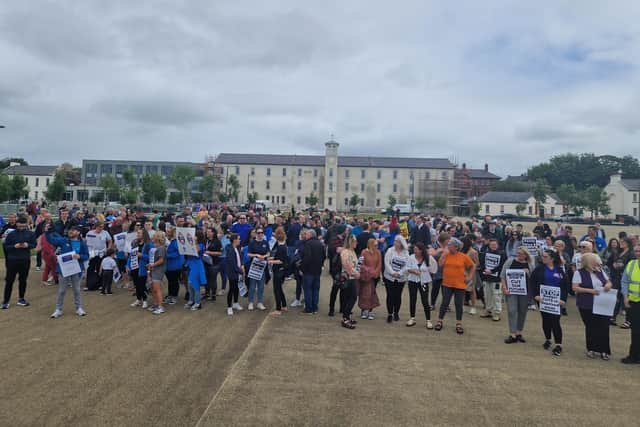 Ms. Doherty urged people to oppose the cuts that are being implemented as a result of Chris Heaton-Harris' Budget 2023-24.
"Personally, as a mother, I feel as though someone is attacking my child. I feel as though they are attacking the right to parity of education and I feel as though they are attacking his future prospects and I don't really think it is very wise for the Secretary of State to mess with any mammy but particularly Derry mammies. So spread the word: we need to stop these cuts."