Giant hogweed 'mother plant' found in Derry & Strabane Council area
A Derry & Strabane Councillor has expressed concerns about the proliferation of dangerous giant hogweed growing across the region, and has described seeing one plant the size of a tree in a wooded area of the district.
Friday, 17th July 2020, 8:38 am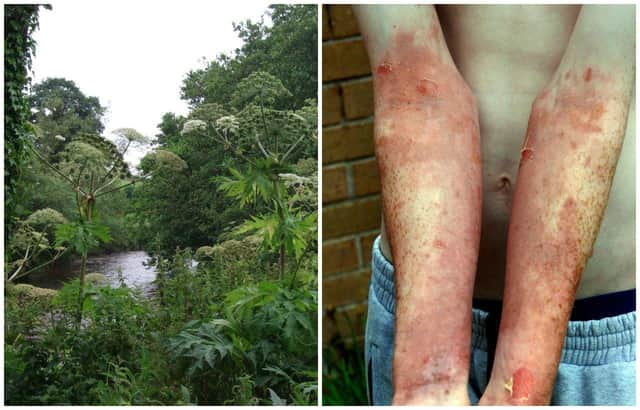 Giant hogweed can cause severe burns if the skin comes into contact with it.
SDLP Councillor Steven Edwards raised concerns over the matter at the July meeting of Derry City & Strabane District Council's Environment & Regeneration Committee.
The Derg representative said that the plant he saw may be a source for giant hogweed appearing right across the region.
Giant hogweed is an invasive species with skin burning sap which can result in permanent scarring or even blindness if it gets into your eyes.
Just last week, twelve-year-old Jack McElhone, from Cookstown in Tyrone, sustained horrific burns after coming into contact with a giant hogweed plant.
The young boy was playing basketball with a group of friends when the ball overshot the net and ended up in vegetation on waste ground.
Jack, who was wearing shorts, recovered the ball and, when he returned home, his condition deteriorated rapidly and he ended up in Accident & Emergency and later the burns unit at Royal Victoria Hospital.
There have been other incidents over recent years of people sustaining severe rashes, blistering and burns as a result of coming into contact with the weed, as the picture above, featuring a different young boy in Northern Ireland, shows.
Speaking at the Council meeting in Derry, Colr. Edwards said the issue was especially concerning around the Sion Mills area.
"At the weekend past, I was out with a few representatives from Sion Mills and seen that the riverbank there along Sion Mills is blighted with hogweed.
"I was brought into this wooded area where there is, what you would term, a 'mother plant' of hogweed growing up to the sky - it's the height of trees- and we believe it is emanating from here and spreading across the district.
"I would just like to see if our officials could come back to us to see what they are doing to combat hogweed across the district."
A Council officer said giant hogweed is "certainly a dangerous plant".
"Landowners have responsibility for eradicating that," the council officer said, adding: "It's a particular problem along waterways because the seeds can disperse and each plant produces multiple seeds, so when you have high waters or floods they can be carried vast distances.
"On our own lands, we take measures to eradicate giant hogweed but where it lies on private land or other statutory organisations it is for those statutory organisations to deal with it."
Councillors were told a report would be brought back on the matter in September in terms of giant hogweed on Council lands.
The Council will also look at advising other landowners about their responsibility to control the noxious weed.