Meeting demand for rapid testing
A local consultant has set up a private Covid testing company to meet the growing demand for tests with rapid results. 
5th Mar 2021, 11:37am
- 2 min read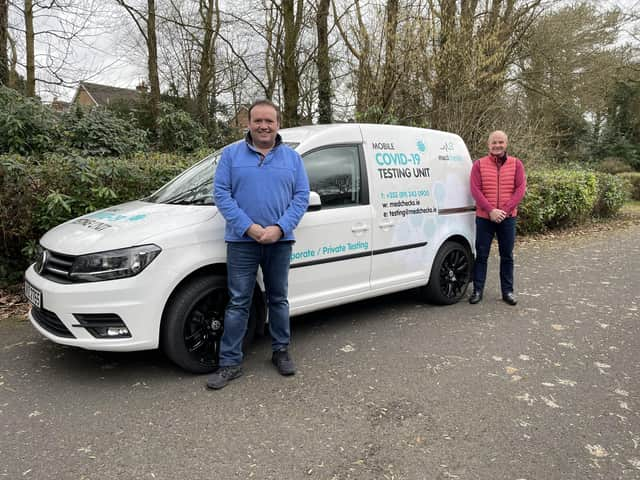 Dr John Doherty, CEO of MedChecks, and Sean Lynch, Operations Manager
Dr John Doherty, who is a consultant anaesthetist at Altnagelvin Hospital and has been working at the frontline during the global pandemic, has been holding nightly clinics in Letterkenny to conduct the rapid tests.
The tests are also available in Derry and across the North
Dr Doherty said the impetus for setting up the private testing facility was the rise in Covid incidents, particularly in the months before Christmas.
"We have been doing this for four or five months now. Because of my role in the ICU, I can see first-hand what the situation is and the incidents of Covid in the north west from early December to the start of January were huge.
"The prime focus of the company was to provide people with rapid results."
MedChecks offer three different types of Covid tests - PCR, Antigen and Antibody.
The PCR and Antigen tests can tell if someone is currently infected with Covid, while the antibody test can be used to detect if someone has previously had the virus.
Results for the PCR test can be delivered within 24 hours thanks to a courier network and a good working relationship MedChecks has developed with Randox.
The Antigen test gives results within minutes.
"The thing that sets us apart is that the team are all clinical people, doctors or nurses, and we can give people information about Covid and address any concerns they may have about testing.
"We have been running the clinics in Letterkenny since the end of December and demand for it has been increasing dramatically. I believe that we have played a major role in helping to control Covid in the north Donegal and Letterkenny region."
Dr Doherty said he believes the demand for private tests will continue to grow as people think about taking a holiday this year.
"Some countries require an Antigen test before you can travel to them, so private tests may be required for people considering holidays. Also, as more people are vaccinated, the Antibody test can let them know if they have built up a good immunity to Covid."
At present if someone in Derry, or across the North, requires a test the MedChecks team will visit them at their home or at a safe place to conduct the test.
However, Dr Doherty said he is in discussions to find an appropriate venue to hold a clinic locally if the demand for private testing requires it.
"We health care professionals have never experienced anything like this pandemic before and sincerely hope that it will never repeat itself.
"In terms of life, I think there will be a new norm and I believe there will be a continuous need for testing going forward."
To book a test in Derry or across the north visit medchecks.co.uk or to book a test in the south visit medchecks.ie