Indoor skate park to open in Derry as campaign gathers pace
A pro-skater along with a local businessman is planning to open an indoor skate park when restrictions are lifted.
Friday, 26th February 2021, 1:11 pm
Derry skateboarder Joe Hill has built a new skate park on the Trench Road, with hopes to open after restrictions ease.
For the past 21 years Joe has been living across Europe discovering his trade. He says he has noticed "an exponential increase" in the amount of skaters across the town.
"I was down at Ebrington the other day, there must have been 40 or 50 wains there. Ebrington would be one of the best skate spots in Europe if they hadn't of skate-stopped it," He said.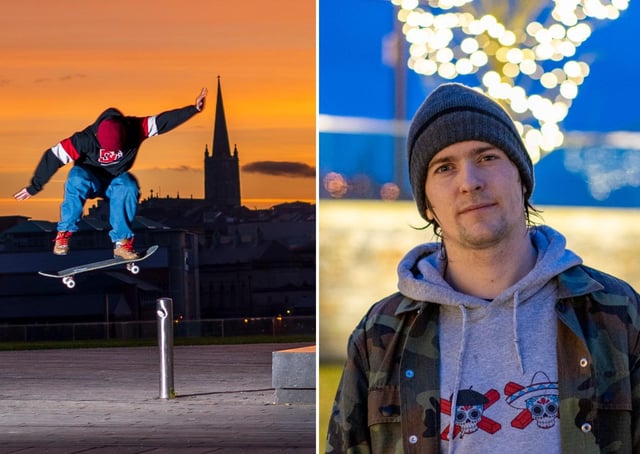 Pro skater Joe Hill.
Joe returned home due to the pandemic, and feels the restrictions are affecting our mental health. He has noticed barriers in the city that do not permit skating.
"You can't just close the whole world. People's mental health is getting seriously affected by this. As soon as we're allowed to open, there is going to be an indoor skate park for the youth of Derry for the foreseeable future. Skateboarding is a singular sport, it's not a contact sport."
Joe set up this new indoor facility with local business man Gregory McNeil. He owns the Bare Knuckle Barber shop, and has been running a store called the Basement Skate Shop.
The two have high hopes for the future. "Me and Greg got an unused section at the back of Glenaden Arena. We're currently updating it, making it a bit more modern, with smaller street obstacles and that. We're ready to go, we've done our inspections and have got the insurance all sussed. We are hoping to expand in the future because there are hundreds of skaters now."
Joe Hill doing a kick flip at Ebrington.
In order to put pressure on the council to facilitate a new outdoor skate park, an online petition was organised in July 2020.
Joe was invited by local skaters to sit in on council meetings to discuss the possibility of developing Derry's first outdoor skate venue.
"I seen a bit of traction going because of the petition," he said. "The local skate community invited me to be involved because I would know more about the design and what the skaters would need.
"The first meeting I was in was really positive. They've got a full team of people dedicated for the outdoor skate park. But that's another few years down the line."
The petition, which now has over 4,000 signatures, was created by Ronan McElroy who is a skateboarder and a voluntary youth worker.
Ronan believes skateboarding is "great for mental health".
"It is open to anyone and from any background. Not only is it a fun past time, it's also a great workout. It's a great social sport and great for meeting new people," he said.
Young lads practice their skateboard skills in Guildhall Square recently. DER2106GS – 016
"I was a keen skater growing up and never had anywhere safe to skate locally. We used to skate anywhere we could and usually ended up being a burden, which is something we never wanted to do.
"I was out a walk and seen a group of skaters gathered over at Ebrington, skating the way I used to have. I had a quick chat with a few mates who still skated and decided I'd see what interest there would be locally, and set up the petition. The response was amazing!"
Ronan decided to draw up a proposal document in order to outline the essential need for a new facility.
'Go Skateboarding Day' is a global event that happens every summer. Ronan says that over 200 people attended the event at Ebrington last year.
But he believes there is hostility and discrimination towards skateboarders. "For so long we have been forced to skate the streets, we have always been a burden. I can understand that. Although we always try our best to stay safe and out of the way of passers by, it is unfortunately not always possible," he said.
William McCartney and Alannah Furlong.
"There is also the image of skaters being different, 'freaks', because it's not seen as the usual popular ball sports. We are working hard to improve people's perspective on this.
"At the end of the day, we are just people who enjoy a sport - an Olympic sport at that. We don't ever aim to go out and annoy the public, or get in people's way. But without the proper facilities it is extremely difficult."
You can sign the petition if you wish at: www.ipetitions.com/petition/derry-skatepark
Throughout the pandemic we've seen an increase in business concepts in the city. William McCartney is a local skater who created his own business model in September 2020. The name of his new brand is Iron Boards.
The shop sells personalised custom skateboards and a range of urban style clothing.
"I think most skaters in the community would've dreamed of starting a skate brand or shop at some point. I was no different," he said.
"With starting a new job in Dublin, I ended up having a lot of free time in the evenings. Being someone who can't sit still for long, it didn't take me long to start hitting the local parks scattered across the capital and start skating again.
"However, I was still missing a creative outlet and decided I was going to use some savings, create a board and order some samples.
"The idea was to create solid Canadian maple boards at an affordable price and give back to the community."
William began skating at the age of 12 and says he has "found friends for life" thanks to skateboarding.
"To be honest, when I hear Derry and skate parks in the same sentence it upsets me," he said
"It's heartbreaking in this day and age that a city as big as ours had no public skate park. The streets and being creative within your environment is a big part of skateboarding. There should be a safe haven for this generation and the next to have a space to call their own, and be proud of.
"I genuinely believe the majority of people in Derry, especially in the past few years, have become increasingly supportive and have the skateboarding community's back. I see it in their faces when they walk past. They're pointing at the skaters for their children to look at. I've literally seen joy in their faces when the parents and kids see someone landing off a ledge or on flat ground. It blows their mind.
"This is something new, different and truly special. The majority of people see and respect that."
Photographer George Sweeney captured local skateboarder Michael Bradley displaying some serious skills at Ebrington recently. (Photos: George Sweeney/ Derry Journal)