Messines park 80 years on: The Pennyburn bombings that no one was supposed to know about
When the Germans targeted Derry in April 1941 it's believed their target would have been the river, in order to disrupt shipping in the port.
Thursday, 15th April 2021, 1:32 pm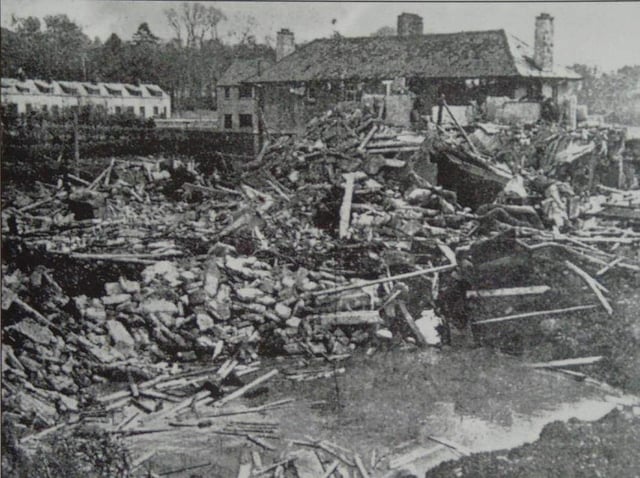 Bomb damage caused by a Luftwaffe parachute mine at Messines Park on April 15, 1941.
However, both bombs missed the probable target and landed in the Messines Park area. The first mine landed in the front gardens of a row of houses, demolishing five dwellings. Thirteen people were killed and thirty-three injured, nineteen of them seriously.
The second bomb landed in a sandpit behind Collon Terrace causing damage to houses, railway carriages and the Parochial House of Pennyburn Chapel.
It's interesting to note that because of a news black-out, imposed to ensure the Germans would not read of their successes, the Derry Journal reported it as a Raid on Six County Town' - and featured it on page eight.
The death notices also did not state the date on which the deceased had passed away.
I awakened hazily from my bed and observed some nurses working on my broken body.
My arms were being bandaged and my legs covered by a metal cage. I thought it was a strange nightmare and went back to sleep.
Some time later I woke up again and saw some nurses doing a lot of work on me, including injections, and I went back to sleep again to escape from the nightmare.
Once more I awakened with the same scene and I began to realize that this was not a nightmare. Something had happened to me and I was in pain and in a hospital.
I wondered how I got there and could not ask anyone as my head was bandaged and I could not speak.
I thought that perhaps I had been speeding down Shipquay Street and fell off the bicycle and suffered a concussion and other injuries. Not so.
A few days later I was told by some of the patients that I had been in an air raid and would be hospitalized for quite a while and that I had both arms broken, kneecap damaged, and shrapnel in various parts of the body.
I asked about where my parents and sisters were and was told they were in the Waterside Hospital and that our house was completely wrecked.
I was somewhat already dazed at the time but was really shocked by the news. However worse news was yet to come.
Father O'Loughlin came to visit me and a screen was placed around my bed. He looked a little nervous. He said, "Charlie, I have to tell you that your mother and father are dead and so are your sisters Ita, Kathleen, Wilma and Sheila. (Sheila was only 10 months.). Evyleen, Joyce, Pamela and yourself were injured and are in this hospital."
He continued, "Your uncle Bernard and wife Freda would like you to come and live with them in England since you do not have a place to live and they do not have any children of their own."
Of course we accepted their offer and we moved to Morecambe as soon as we left the hospital and after we paid our last respects and love to our parents and dead sisters.
The four of us bandaged teenagers made a sad sight both leaving Derry and arriving in England in our donated clothes. We teenagers could not help sadly singing the Londonderry Air on the train and ferry.
It was quite a shock for our Aunt Freda accepting us when she had no children of her own but we did our best to help her and get a job even with poorly fitting clothes and bandages.
I managed to get a job in a hardware store even with my left hand bandaged, and Evyleen got a job as a nurse trainee. Joyce got a job in an office. Pamela was young and still going to school. She was considered the baby.
Eventually my Aunt Freda got a little tired of having us in the house with all the cooking etc, and kept suggesting that I should be better going to Sea with the Merchant Navy as a Radio Officer.
I quit my job and went to school for six months, passed the exam and became a Radio Officer. I joined my first ship The British Power' - a tanker which I stayed on for eighteen months visiting New York, Naples, North Africa, Greece, Malta and various ports around.
The ship finally came home to Liverpool and I signed on the Clan MacNair', a clan boat going out and staying a long time in India, Ceylon, North Africa and The Persian Gulf.
After The Persian Gulf I was glad to see Liverpool again.
The next ship was The Chupra' which mostly sailed around the Persian Gulf carrying cargo and services. My next ship was another tanker in the Italy and Mediterranean waters.
After this I found myself trading between Calcutta and Australia on a passenger/cargo ship. While the vessel was in dry­-dock I got myself a job painting the bottom and chipping of a ship as I was not allowed to use the ship's transmitter on account of causing interference.
This idea of extra working ashore came in handy, enabling me to make some extra money while in Sydney. I needed this as I was thinking of going to America when we arrived back in the UK. I had no home in UK and had been staying in hotels or friend's homes when I was not at sea.
When I arrived back in Liverpool I kept thinking about going to America and at the same time I was spending a lot of time remembering how much I loved living in Derry and Ardmore before the air raid.
We lived in Ardmore for a couple of years and we all liked it. But we went back to Derry again as Ardmore was hard on my father cycling to and from work every day especially in bad weather. He worked at the Labour Exchange in Bishop Street, and travelling was rough.
We moved to Gloucester Avenue, Waterside, then Marlborough Road, but my father and mother were always saying how much they would like to go back to Messines Park. We had lived there many years ago, at number 15.
I was very young then but remember it well. It was ironic that their dream eventually came true but that they were both killed there along with their four children, in the air raid of 15th April, 1941, while living at number 59.
This article originally appeared in the Derry Journal in April 2014 when Charlie was approaching his 90th birthday.