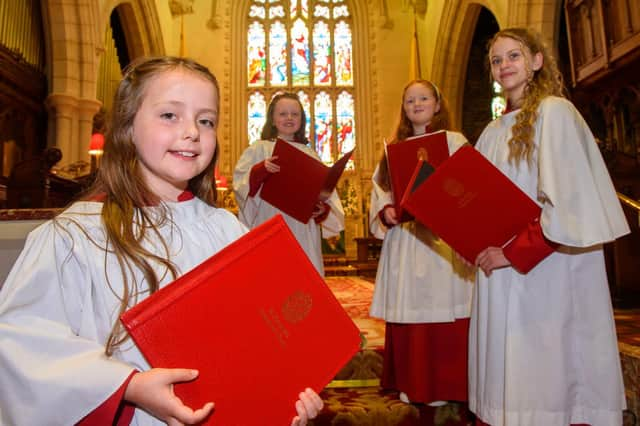 Robyn-Emily McGonigle, Lily McMackin, Emily Huey, aged eight and fourteen years old Victoria Slomkowska who are among the first young people to join St.Columb's Cathedral's new Girls Choir in Derry-Londonderry. The new choir for 7-16 years old begins rehearsals in September. This will provide an exciting opportunity for young musicians to develop their potential and is open to people of all faith backgrounds – not just the Church of Ireland. The Cathedral will continue to maintain a Boys' Choir, and the new Girls' Choir will play its own part in the schedule of services. Picture Martin McKeown. 03.07.22
Nine photos of first recruits to historic St. Columb's Cathedral girls' choir
A wee bit of history was made when recruitment got underway to what is believed the first ever official girls' choir at the oldest purpose-built Protestant cathedral in Europe. Several young choristers have already signed up for the exciting initiative at Derry's historic St. Columb's Cathedral.
Friday, 5th August 2022, 3:19 pm
Updated
Friday, 5th August 2022, 3:21 pm
Here are nine photos of the first recruits to the choir rehearsing this week.