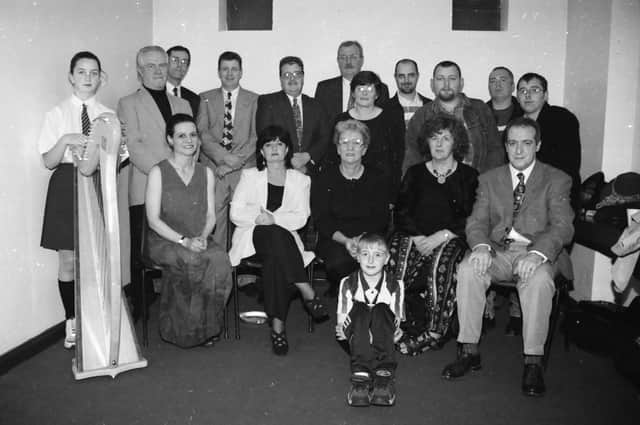 Some of the performers at the Creggan 50th Festival Midsummer Gala Evening held in St. Mary's Community Centre. Seated, from left, are Mary Crumley, festival organiser, Bernadette McFarland, Teresa Moore, Patricia Mulkeen (The Creggan Belles), and John Peoples, director, St. Mary's Choir. Back, from left, are Aine McDevitt, Jim McDermott, Pat Lynch, Gerry Doherty, Eddie Kerr, Kevin McCallion, cast of 'The Walls of Derry', Cora Baker, producer, Dougal McPartland, Phil McGerigal, Paddy Nash and Declan McLaughlin (Screaming Binlids). At front is Kevin Kerr.
NOSTALGIA: Derry and Inishowen in pictures - June 1997
In June 1997 an end of an era was marked as the original Bishop Street site of St. Columb's College ceased to be part of the famous old school; five Inishowen fishermen, including three brothers, were airlifted to safety when they were forced to abandon their vessel, 'The Father Brendan', when it sprung a leak off the island of Islay; and seventeen-years-old Sean Holmes set off to commence a three year contract with one of the sleeping giants of English footbal, Manchester City. As ever the 'Journal' photographers were at the scene.
Tuesday, 28th June 2022, 12:44 pm