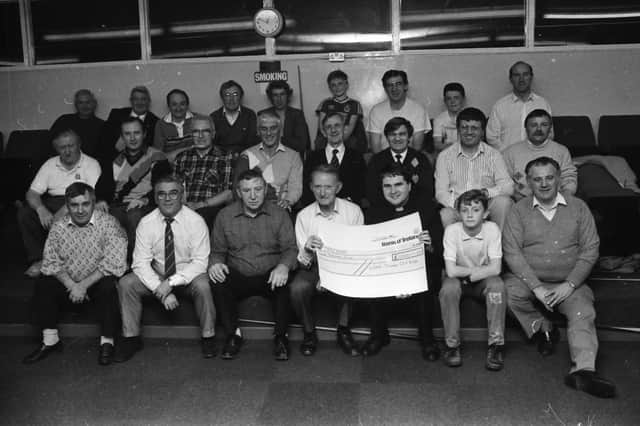 Mr. Willie Meehan, chairman of the Long Tower Old Boys' Committee, presents a cheque of £1,000, the proceeds of a cabaret dance evening in the Delacroix lounge, to Rev. Eamon Graham, Derry Diocese representative of Trócaire. The cheque was presented at the committee's weekly snooker session.
NOSTALGIA - Derry and Inishowen in winter 1989
In the winter of 1989 Mr. John McLaughlin, who lived just outside the village of Gleneely, in Donegal cemented his reputation of being the champion vegetable grower in Britain or Ireland, with his latest specimen - a huge cabbage; Derry Sinn Féin Councillor Hugh Brady alleged his party colleague Mitchel McLaughlin had been informed by the RUC that he was the target for a loyalist assassination; and two officers with Derry City Council returned from helping to monitor the first ever free and fair elections in the little known African country of Namibia - the largest operation ever mounted by the United Nations Organisation - and described it as a chastening experience. As ever the 'Journal' snappers were out and about.
Thursday, 23rd December 2021, 10:49 am