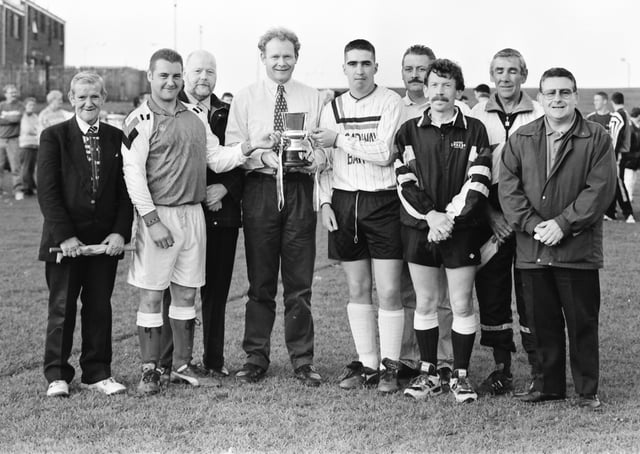 Martin McGuinness presenting the Bronco Bradley Memorial Cup to Gary Barnfield, captain, Ardnamoyle Celtic, who defeated Annie's Bar in the final held at Leafair pitches. Included, from left, are Pash Doherty, linesman, Bobby Sheerin, Conor McCallion, captain Annie's Bar, Martin McGilloway, organiser, Eamon Wilkinson, referee, Danny McCloskey, linesman, and Tony Hasson.
OF TIMES GONE BY: Derry and Inishowen in pictures - September 1996
In September 1996 the Derry Journal was inundated with phone calls complaining about what one angry reader called a 'malodorous stench' that had taken over the city in recent days; Garda checkpoints along Donegal border crossings, in existence since the emergence of the BSE crisis in March, continued; Strabane District Council was told it had a 'moral duty' to buy a collection encompassing the life and works of one of the town's most famous literary sons, Brian O'Nolan - aka Flann O'Brien.
Friday, 17th September 2021, 4:55 pm