RETRO PHOTOS SPECIAL! Immaculate Conception College prizegiving 2005
We go back in time to feature the Immaculate Conception College annual prizegiving night from 2005.
Monday, 27th June 2022, 12:20 pm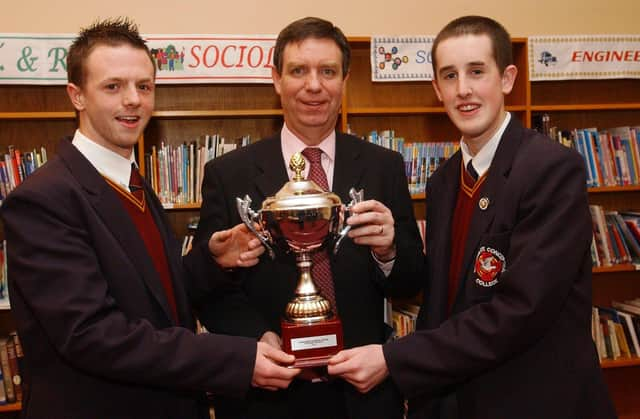 Frankie Orr, principal, with Kieran Harkin, left, and Kieran Connor, who both received the Principal's Cup for Leadership.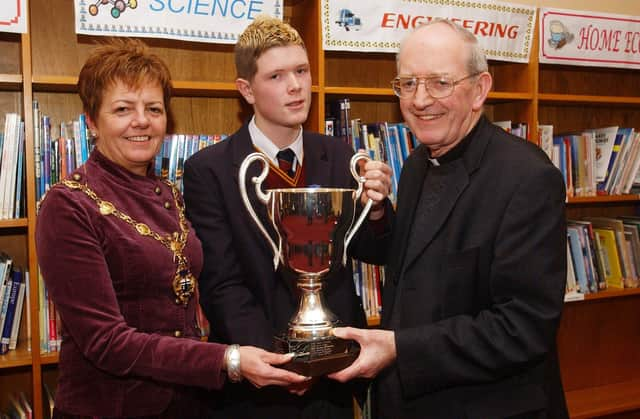 The Mayor of Derry Councillor Lynn Fleming and Father Oliver Crilly, guest speaker and Board of Governors, pictured with Paul Hughes who received an award for Irish at the Immaculate Conception College prizegiving.
From left, John McLaughlin, Educational Welfare Officer, Hugh Hegarty, Board of Governors, Conor Houston, P.E, Sinead Gillespie, Leisure and Tourism, Christina MCGee, P.E, and Jim Kelly, Board of Governors.
From left, James McShane, Environment Award, Charlene McKinney, AVCE ICT and Business Studies, Paul McCallion, Board of Governors, Joseph Bradley, Maths, and Philomena Bradley, Board of Governors.
Seated from left, Geraldine Doherty and John McCartney, Board of Governors, and Stephen Gallagher, History. Standing, from left, Charlene Magee, Derry Civic Award, Stpehen Friel, Best Work Experience, Laura Burke, Art and Design, and Eamonn McGowan, Community Service.
From left, Kiefer Rogan, Christopher Webb Cup, Sean McNaught, Danny Kerrigan Cup, Agnes Webb, Daniel Kerrigan Junior, and Emma McConomy, Michelle Webb Cup.
Year eight and nine prizewinners pictured with Catherine Alexander, senior teacher.
Key Stage 3 prizewinners, seated from left, Niall McKinney, Brendan Harkin, vice principal, and Sarah Doran. Standing, from left, Rej Bautista, Gerard Kelly, Celine Jarvis, and Michelle Kyle.
Key Stage 3 prizewinners, from left, Danielle Duffy, Nadine Kelly, Gerard Kelly, head of pastoral care, Denise Doherty, and Sian McAdams.
Year ten and eleven prizewinners pictured with Cecilia Dowling, year tutor.