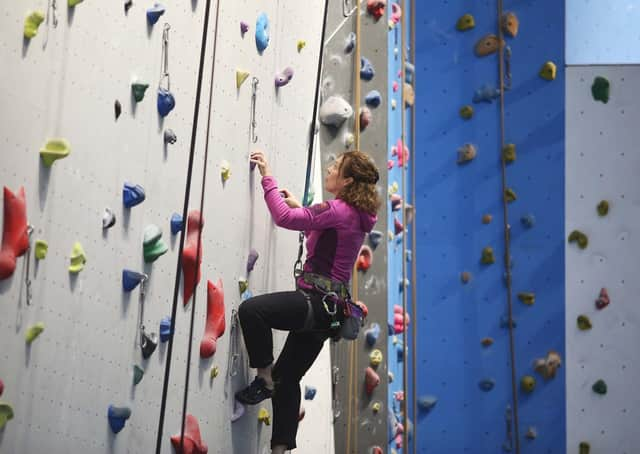 The climbing wall at Foyle Arena.
As Derry and Strabane's leisure centres prepare to open their doors on Friday for the initial first intake of visitors looking forward to getting back to the gym after lockdown, local climbers will be delighted to hear that they don't have much longer to wait either.
The Council said it has been working closely with the relevant governing bodies to ensure measures are in place for the safe phased return to climbing and climbers are advised that sessions must now be pre-booked in keeping with the current restrictions. Booking will open from Tuesday May 4.
Leisure Area Manager with Derry City and Strabane District Council, Steve Setterfield, said he was delighted to see that the state of the art facility would be reopening within weeks. "We have had many requests from the local climbing community in recent months about when the Wall would reopen. So we're very pleased to have it confirmed that we can begin a phased return in the coming weeks.
"The Foyle Arena is currently operating as a Mass Vaccination Centre at the request of the Health and Social Care Trust, so obviously there will be some measures in place to ensure the safety of everyone using all the facilities on site.
"The Climbing Wall will only be available for individual adult training initially in line with the current Return to Sport regulations.
"As with all our activities this will remain under review and we hope to be able to offer additional sessions as and when we get the confirmation from the Executive and the relevant sporting bodies that it is safe to do. I know local climbers will be absolutely delighted to resume their climbing training after such a long period of lockdown."
Floor walkers will be in place for the reopening of the Climbing Wall and competent climbers that wish to register can be assessed by the floor walker and can complete the forms on-site.
Each session will last 90 minutes and times of sessions will remain under review due to the on-going vaccination programme in the centre. Additional weekly sessions should be released in due course.
All climbers are asked to arrive ready to exercise and changing and shower facilities remain closed in line with restrictions. Users will be asked to follow a one-way system and to follow the instructions of staff while on site.
Booking opens online from May 4 at www.derrystrabaneleisure.com You can find further information and updates on the Foyle Arena Facebook Page.