Summer Lovin' the Redcastle Oceanfront Golf and Spa Hotel's great getaway!
​Nestling along one of Inishowen's picturesque shorelines, Redcastle Oceanfront Golf and Spa Hotel describes itself as "one of north Donegal's best kept secrets." It's a description they may have to rethink!
The hotel, which boasts a superb nine hole links course offering stunning views over Lough Foyle, has always been a popular destination with local wedding goers, golfers or even those just in search of a little 'me time' thanks to its superb leisure centre and spa facilities. However, a recent half million euro refurbishment means it's ready to be rediscovered all over again!
Lucky for me then that the hotel's current Summer Getaway package presented the perfect opportunity to do exactly that.
Available Sunday to Friday, the great value deal includes an overnight stay with a full Irish breakfast and a three course evening meal in the Hotel's award winning 'Edge' restaurant and believe me when I say, it doesn't disappoint.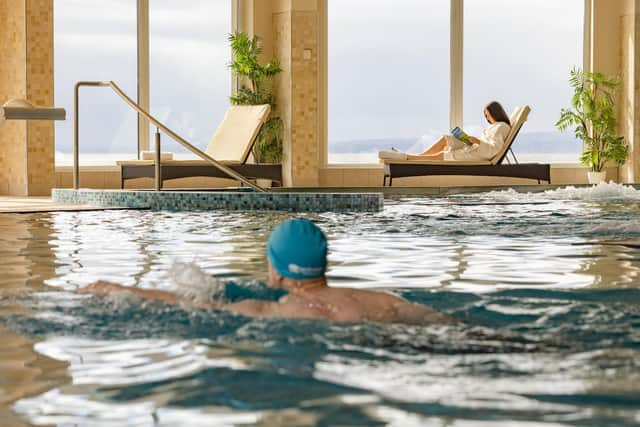 Every one of the hotel's 94 rooms recently received a sleek, modern makeover. For those who visited before, they've lost none of the charm nor comfort that made them uniquely Redcastle but redesigned under the theme of the stunning natural environment in which the hotel is located, the fresh, spacious look lends itself superbly to its seafront home.
Our own double room was everything we could've hoped for. With a stunning view out over the water, it was perfect for relaxation – the goal of our stay – but the excellent wi-fi and quiet setting meant any work you may have needed to complete while staying at the hotel wouldn't have been a chore either.
However, the only strenuous work on our particular 'to do' list was getting ready for dinner and it was soon very apparent why the hotel's 'Edge Restaurant' has won awards. Head Chef Gordon Smyth, Ulster Chef of the Year in 2017, and his team have created a delectable three course menu which means you won't go wrong with any dish you choose.
After a few under the table Google searches on my phone to check over some of the more exotic choices, I started with the terrine of chicken and ham hock with tipsy plums, pickled mustard seeds and smoked almond. My wife had the warm smoked Gubbeen chorizo salad with baby gems and sourdough croutes and both dishes were superb, though the menu is such you'll want to sample everything.
Our mains were the pan fried seabass, fennel ginger and white bean veloute with dill and pickled mussels and a breast of free range chicken on roast cauliflower risotto with crispy bacon and golden raisins. Again, my only complaint was I couldn't order more than one dish. They were delicious!
Dessert was another minefield of win-win choices. My wife went for the lemon polenta cake with sauvignon poached peach, pistachio, toasted meringue and brown butter ice-cream which is just as delicious as it sounds. I had a yoghurt mousse with passion fruit curd, cashew and coconut granola and cardamom. I didn't know what it was when it was ordered, but I won't forget it any time soon!
There are a couple of supplements on each course menu should you wish to indulge even further but those didn't apply to us and it's a dining experience I would love to revisit in the future.
With entertainment afterwards in the beautiful setting of the Captain's Bar, some music capped a wonderful evening.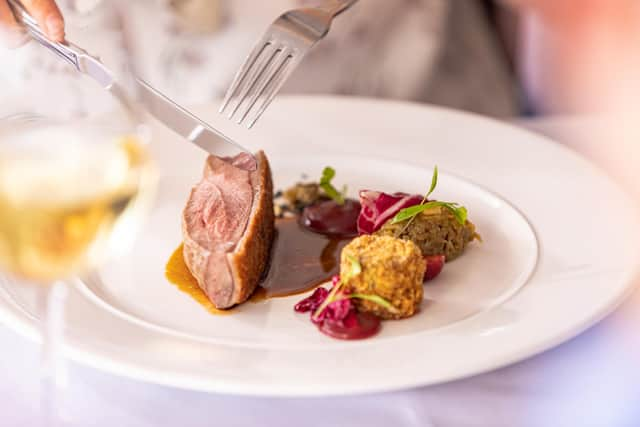 It was back to The Edge Restaurant for breakfast the following morning and, again, the food and the setting couldn't be faulted. Snaring one of the sought after window tables that look out onto Lough Foyle, the bountiful buffet style selection had everything you could want for a start to the day that meant you won't be hungry until the sun has long set.
The spectacular food was an obvious highpoint of our stay but the real strength of the Redcastle lies in its people. From the friendly check-in to the attentive service at dinner and breakfast, the staff were superb without ever feeling over-bearing. In fact they were the perfect complement to the picturesque setting and world class food. Put those three together and you have all the ingredients for a fantastic stay, one which we loved and will hopefully get back to again.
And at less than €200 per room the Redcastle's Summer Getaway is the perfect chance to take advantage but be quick because it look's like the secret is out!