Mica Action Group urges Donegal County Councillors to 'put people before party' and 'send a strong message to government'
The Chairperson of the Mica Action Group said the Irish Government 'needs to feel the pressure from the county councillors on the ground,' in relation to the Defective Blocks Redress Scheme.
Published 26th Jan 2023, 18:10 BST

- 2 min read
Letters from the group were sent to each of the 37 Donegal County Councillors this week, urging them to 'send a clear and strong message for equality' for defective homeowners.
It comes after government recently announced a fully funded, end to end managed Redress Scheme for the owners of defective apartments. The group said they are happy and relieved for the owners of defective apartments, but that it is is discriminatory to those affected by defective homes.
MAG has organised a bus to travel to Leinster House on February 8 and asked that all councillors make this trip to show their solidarity with affected homeowners.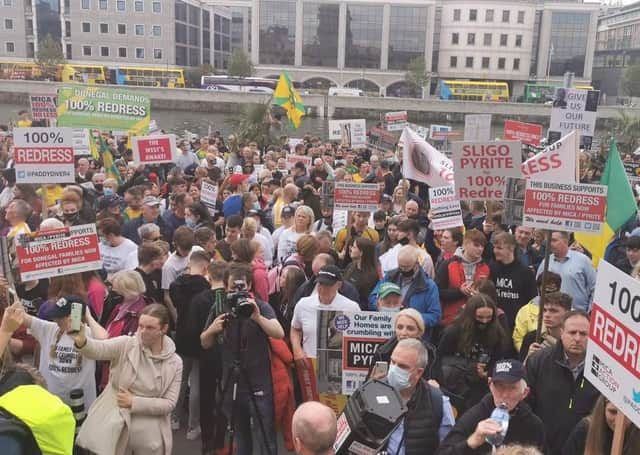 Lisa Hone, MAG Chairperson, said that county councillors 'are the closest' public representatives to the mica homes crisis and 'they should be as understanding as anyone in terms of getting their heads around the issues.
"We feel they should be a lot more vocal in sending a very clear and strong message to government. It does put some of them in a difficult position, as they are aligned with government parties and we are asking them to put their people before party. Put it to the TDs, Ministers, party leaders and say: 'It is not good enough.' Our people are suffering and what has purported to be delivered by government is so way off the mark, it is prolonging the agony for people in their time of need. Government needs to feel that pressure from councillors on the ground."
Ms Hone urged councillors to 'stand up and fight for the people of the county'.
She added that those impacted by defective blocks in their homes are 'glad' for apartment owners, who have also 'suffered for years in torment living in defective homes' but they want equality.
"A lot of the elements we fought hard for and which were refused by government have now appeared as part of this scheme. Why is government prepared to provide it for one and not another? We're all in this situation for the same reason – the State failed so badly for so long."