10 Derry women who would be worthy of Freedom of the City
The 'Journal' revealed recently that Derry Girls writer Lisa McGee is to become the first woman nominated for the Freedom of the City of Derry.
Friday, 24th June 2022, 4:54 pm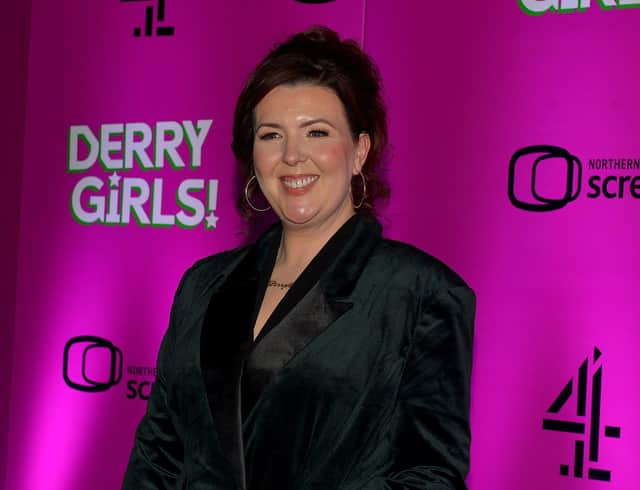 Derry Girls creator and writer Lisa McGee who was nominated to recieve the Freedom of the City of Derry. Lisa is the first woman to be nominated for the honour. Photo: George Sweeney. DER2214GS – 019
Many people were shocked to find out that it took until 2022 for a woman to be nominated for their achievements to be recognised with the highest honour in the city.
The 'Journal' comprised a list of other Derry Girls who would be worthy of being nominated now that Lisa has broken the mould.
The Derry Factory Girls were strong, hardworking women who worked in poor conditions in the factories while also raising and caring for their families. They represent everything Derry women stand for.
Bronagh Gallagher is a singer, actor and proud Derry Girl who has been representing the city since the late 80s. (DER1014PG074)
Dana, or Rosemary Scallon, was the winner of the 1970 Eurovision Song Contest with her song 'All kinds of everything'. She was also an MEP in 1999.
Derry singer and former member of Girls Aloud, Nadine Coyle. Nadine put Derry on the map in terms of pop-culture in the naughties and has become a queer icon in recent times with her infamous Derry accent.
Proud Derry Girl Roma Downey would greatly deserve the Freedom of the City for her work as an actress, producer, and author. Roma has a star on the Hollywood Walk of Fame and in her speach, she dedicated the star to the people of Derry.
Amanda Burton is a TV actor best known for her roles in Silent Witness, Marcella and Waterloo Road. She recently spoke about how her childhood growing up at Ballougry School in Derry made her the person she is today.
Pat Hume was a teacher and pivotal in the Civil Rights movement in Derry. She was married to John Hume and was often cited as being his 'rock' and behind the scenes advisor to her husband and the SDLP as a whole. John Hume received the Freedom of the City in the year 2000 and many would argue that Pat's honour is long overdue.
Aileen Morrison is a triathlete, runner and swimmer from Derry who represented Ireland in the 2012 and 2016 Olympic Games.
Aoife Grace Moore is the Political Correspondent in the Irish Examiner. She notibly broke the Oireachtas Golf Society Scandal 'golfgate' scandal in 2020 where members of the Irish government broke Covid restrictions at a golf society dinner. She has made a name for her as a fierce political commentator in Ireland.
Sister Clare was a theater actor, writer, director, and tv presenter before she got a calling to become a nun. She is an inspiration to many and has been attributed to healing and fertility miracles since her death.