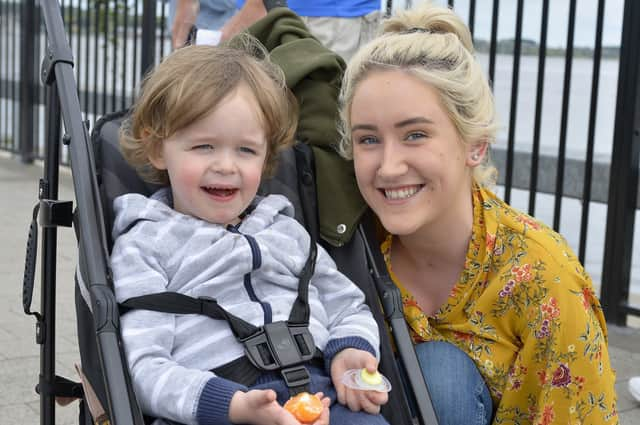 Tom Fisher with his big sister Rachel at a previous Foyle Maritime Festival. DER2918GS064
Maiden City Ink Tattoo Convention in the Everglades Hotel. 29 - 31 July. The Maiden City Ink Tattoo Convention will welcome 50 artists from around the world with walk ups and bookings available all weekend. To book with an artist, visit www.maidencityink.com and get in touch with them directly. £5 per day
Ulster three Day International Youth Tour 2022, Campsie Industrial Estate. Foyle Cycling Club are delighted to host this iconic event and give young riders a comfortable setting in a controlled eniviroment to let them experience stage racing in a professional arrangement hoping they excel into believing the world is their oyster.
Organ Recitals at St Columb's Cathedral: Tristan Russcher (associate organist at St Anne's Cathedral, Belfast) will perform on Thursday 28th July. Picture: George Sweeney/Derry Journal DER2320GS - 010
St Augustine's Church Summer Concerts. Every Tuesday and Saturday from June 21 to August 27 1pm-2pm. Admission is free.
Weekend Textile Screenprinting Course with Naomi Arbuthnot. Learn how to develop screenprints on fabric from start to finish. All elements of the process will be taught in this two-day course. First, you'll explore handmade and digital mark-making, then screen preparation, exposing your image onto a screen, and finally the colour mixing, printing process, and heat pressing. You will walk away with as many textile screenprints as you can make. Suitable for all levels. July 30 - 3110am - 4pm Price: £160 (incl. materials) at Derry Print Workshop
Bennigans presents Derry duo, Tessio, on Friday the 29th of July, with support from Cathal Francis.
Opera Hibernia Presents. 25-30 July 2022 Opera Hibernia singers, dancers and pianists, as well as the acclaimed chamber choir Codetta will perform a mini concert series presenting some of the most beautiful music from all around the globe. Local, national and international art song recitals, as well as everyone's favourites from the musicals and the opera in this concert series. 25 July at 19:30, Around The World Song Recital in St Augustine's. 26 July at 19:30, Songs From Ireland & Britain in St Canice's, Eglinton. 28 July, 19:30, A Night At The Musicals in The Gallery, Playhouse Theatre. 30 July at 19:00, A Night At The Opera in Ulster University,Great Hall, Magee.
Void Tots sessions continue! These relaxed, fun sessions with artist Sinead Crumlish are always a hit with children aged 1-3 years old. Come along and get messy with your little ones! July 29, 10:30-11:00am & 11:30am-12:00pm in the Void Gallery. £3 per child
Pop-up Picnic, July 30 at 12.30pm in Brooke Park. A gathering in the park to speak Irish.
Dementia Friendly Tea Dances, Thursday 28th July Millennium Forum. The tea dance is free with an afternoon of entertainment and music provided by The Ringabellas. Booking is now open and is essential. Places are limited. Telephone 028 71264455 (Option 1) to book and advise of any dietary requirements. Dementia Friendly Tea Dances 2022 dates: For further information on the Dementia Friendly Tea Dances please contact Lisa Heaney on 028 7127 2779 or email [email protected]