10 things to do in Derry this week
There's plenty to do in Derry this week, September 19-25.
Monday, 19th September 2022, 1:32 pm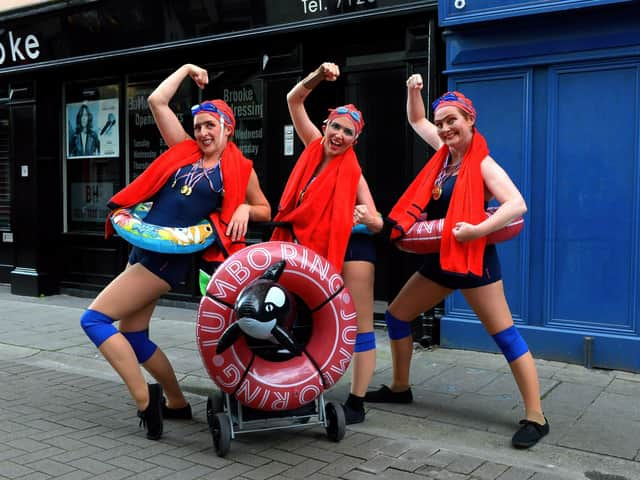 The Synchro Swim Team performing during the Culture Night last year. DER2137GS - 043
Good Relations week and Culture Night take place this week, as well as a host of other events so there's sure to be something for everyone.
Foyle Deaf Association will host an open day highlighting projects and services that they deliver, whilst providing taster sessions in Irish Sign Language and British Sign Language. Friday, September 23.
Stay and Play with us - Monday 19th September - 10am and Wednesday 21st September - 9:30am in Clooney Hall & Cultúrlann Uí Chanáin. Parent/toddler groups from each location will visit each other's spaces to develop friendships and embrace languages, new spaces and cultures. Ag súgradh agus ag spraoi linn. Tabharfaidh grúpaí tuistí/tachrán ó gach suíomh cuairt ar áiteanna a chéile chun cairdeas a fhorbairt agus chun fáilte a chur roimh teangacha, spásanna úra agus roimh chultúir. For more information please contact Catherine Pollock at [email protected]
Good Relations Learning Disability Awareness Workshops in Destined Foyle Road. A full day of Good Relations Learning Disability Awareness workshops for young participants from the City and District. The workshops will entail videos, with a question and answer session afterwards. A guided tour will then follow which will be led by members from Destined. Wednesday 21st September - 11am, 2pm and 7pm
Mohand and Peter. in Pilot's Row. PSYCHEdelight Theatre and Sole Purpose Productions present a wonderful work of storytelling and physical theatre. With humour and visual poetry, Mohand and Peter will take you on a road trip through Sudan jumping from one character to another, including Omar Al Bashir, Mohand's 450 cousins, and a lazy camel. The performance will be followed by a Q&A with the director and actors. Performed by Mohand Hasb Alrosol Abdalrahem and Peter Pearson, and directed by Sophie Bertrand Besse, this is an unmissable event. Friday and Saturday, 23&24 September.
Derry City and Strabane District will join cities and towns across Ireland to celebrate Culture Night on Friday 23rd September 2022. Culture Night / Oíche Chultúir is a national moment, celebrating all that makes up the richness and diversity of culture in Ireland today, connecting people to cultural activities locally and nationally and aims to open up pathways to ongoing engagement. Culture Night is a night of entirely Free entertainment, activity, discovery and adventure when Arts and Cultural organisations open their doors until late offering tonns of inspiring and imaginative free events, tours, talks and performances for people of all ages to enjoy. More events at culturenight.ie
Chinese Culture Day - Sunday 25th Sep 1:00pm - 5:00pm in the Holywell Trust. A series of sustainability workshops will be delivered around Chinese culture. This will include paper cutting of a tree, Peking Opera mask painting, Chinese writing and more. To book please contact Yang via email [email protected]
Bollywood Day Sun 25th September in the Waterside Theatre.This event will showcase the culture and traditions of the Indian Community to a wider audience. The event will close with a Bollywood movie for everyone to enjoy.
Ciaran Bartlett | MAJESTIC Fri 23rd Sep 8:00pm in the Nerve Centre. MAJESTIC is a brilliant chance to enter the world of the Goblin King following a year of sell-out shows and viral appearances on his own No Blasters Podcast and Shane Todd's Tea With Me. Admission: £12 + booking fee. Run Times & Intervals: 8pm (Doors 7pm) Age Guidance: 18+
Change Starts with Me Fri 23rd Sep 12:30pm - 5:00pm at the Holywell Trust. TUH will host a series of readings from culturally diverse community based writers, all exploring how each of us might take more personal reasonability in creating a more dynamic social, cultural, environmentally and economical change. Writers reading in the cafeteria area of Holywell Trust: Sue Divin, Roy Arbuckle, Grainne McAnee, Jim Simpson, Felicity McCall, Anne Walker and Stan McWilliams.
Cultural Extravaganza on Tuesday, September 20. 'As part of Good Relations Week 2022, Apex will be hosting a Cultural Extravaganza at Culmore Community Hub from 11.00am to 1.00pm. Everyone is welcome to join us for what promises to be an exciting and fun-filled morning, we'll have a Chinese lion, Bollywood dance, international crafts, African music and drum circle and food from India, China, Poland and Africa. No need to book just come along and enjoy the entertainment.'