Derry restaurant appears on Michelin Inspectors' Favourite New Restaurants
Artis by Phelim O'Hagan has appeared on Michelin Inspectors' Favourite New Restaurants list for this year.
Published 6th Feb 2023, 09:15 BST

- 3 min read
The restaurant is run by Phelim O'Hagan and Serina Macari who, as well as running a busy restaurant, also have two young children at home. The couple feel 'honoured' to have featured on the Inspectors' Favourite list, although it wasn't a complete surprise to see their name.
Serina said: "You don't know in advance if they're going to appear. When you come on their radar, they can just appear at any time. So, obviously, from the moment we opened, we knew that we wanted to be in the guide."
"They're very secretive," said Phelim. "They're probably one of the most secretive associations out there. With the Michelin Guide, they'll have a table for one or two and not tell you who they are after they've eaten but when they left Artis, they Tweeted about us, so we knew then that they had been in. We also knew that it must have been good if they were Tweeting about us but to be included as one of their favourites of the month for January was amazing."
Although it is a huge feat to be featured in the guide, nothing is guaranteed for the years ahead for Artis.
"We're now officially in the guide," said Phelim." "Which will be released at the end of March, but we don't know if we're just featured in the guide, which is fantastic, or if could be a Michelin Star or a Bib Gourmand involved, nobody knows. We'll not know that until March 27 and the next guide will come out that following year so, by all means, in that year they will come check you again and they will take you out of it if they don't deem you worthy enough.
"When we first started doing what we're doing here, it wasn't for Michelin. We wanted to be included of course but we were simply cooking the food that we cook and people are enjoying it. We're always trying to better ourselves, our service, the wine and everything else. For us, we're always trying to better ourselves no matter whether Michelin see that or not.
"We always said it was going to be a dining experience here. When people come here, you're not getting moved off the table so someone else can sit down. The taster menu can last over four hours or have three courses over three hours. There's nice music, you can enjoy the wine and have a break in between courses. We're always searching for new ingredients, new wines, new techniques, new flavours. It's all part and parcel of trying to get better."
"A lot of our wines are very small batch," added Serina. "And just as Phelim changes his food often, I would tend to do the same with the wine. We use smaller batch wines that you won't get everywhere, things that people won't necessarily pick up. So, it's all about giving people a different experience and something they'll not get anywhere else."
"It's lovely when someone comes in here to eat who you haven't seen in years and then, the next day, they're messaging to say how much of an amazing experience they had. We still get a lot of people who are here for the first time and they go out of their way to email after. It's really nice to hear and we're still very humbled by it and grateful to still be here."
With Arts doing so well, do the couple have any plans for expansion in the future? The short answer; no.
Phelim said: "When we opened Artis, we set out what our goals and our plans were and, for us, it was always to have a happy work life. We have two young kids at home so a four day working week was the next thing. This is our first restaurant and this is my baby. I don't want to expand, I just want to care for my baby as much as I can. We're not perfect, there's always room for improvement so any future plans are just non-existent, you just keep making things better.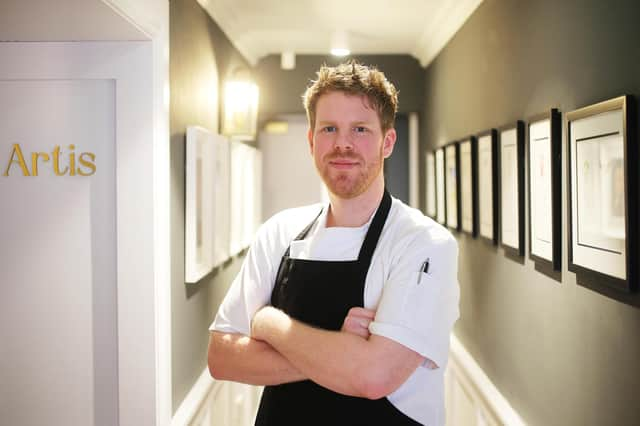 "We're both very meticulous," said Serina. "I like to know what's going on here, what stage every table's at and he's the same. I've only not been here once and it was horrible – I couldn't settle!"