Derry woman takes business from converted caravan to buzzing café
Offing Coffee's distinct teal caravan has been a much-loved haven for walkers, cyclists and runners 'out the line' for the past two years.
Published 26th May 2023, 15:29 BST

- 5 min read
Updated 26th May 2023, 15:29 BST
Set up by Stephanie Bradley, the little 1980s converted caravan provided drinks and homemade goodies for the masses throughout the Covid lockdown and beyond. For now, the caravan is enjoying a well-deserved break as Stephanie sets up roots in her new permanent home in Destined, on the Foyle Road.
Stephanie explained: "Coming into the winter last year, the caravan was only going to open on Saturday and Sunday while I worked in Fidela, the coffee roastery, in the middle of the week. I had to make a decision whether to go down the roastery side of things full time or see what I can do with the caravan in the following year. In January, Charlene from Destined got in touch saying that there might be a potential for a café space if I wanted to talk about it. The opportunity to have such an amazing local charity as my landlord and being able to work so closely with them, as well as this whole set up and the location was too good to turn down.
"I think when you start something, like a caravan, you always have it in the back of your head that you would love to have a physical premises some day with running water, electricity and a toilet – all the luxuries of life! But when I first started, it wasn't something I could seriously start thinking about for four or five years. I don't think I would have moved for anywhere else or any other location in town. When I started telling people, everyone thought it was a perfect fit and some people even guessed where it would be before I told anyone!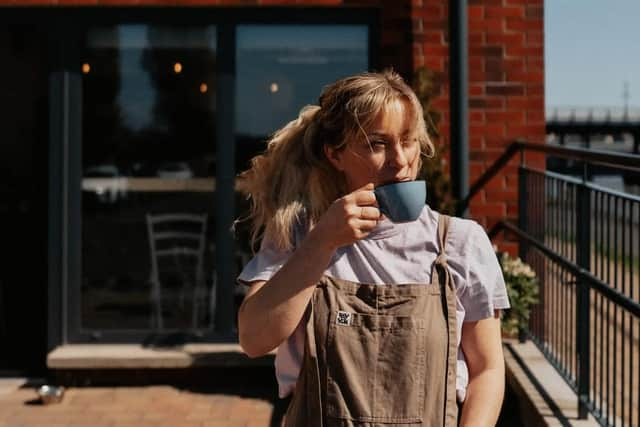 "It's been a lot busier than I ever could have expected. I spent the last two years in a field staring at cows on my own but I got such a welcome reception here. For an opening week to be as busy as it was with very little advertising, it's just better than I ever could have hoped or wished for. It's been great so far."
Stephanie had plenty of voluntary support from friends and family while she was in the caravan, including her mum baking all the goodies, but now she has six team members working for her as well as a fully-functioning kitchen."I'm so blown away with how lucky I've been with each of the members of staff," she said. "They're all so great and so lovely and have been working incredibly hard. At a time where there is that conversation around how difficult it is to get staff in the hospitality sector, I've been very, very fortunate and I'm feeling very grateful for the people I've been able to recruit here."
Offing is now able to produce freshly cooked, hot meals, prepared by the in-house chef. The menu is still a work-in-progress but Stephanie is thoroughly enjoying the process.
"I love things that are a bit more eccentric, quirky and unusual, which doesn't always appease the masses. It's been a fun process but slightly different to what I'm used to. I've been in the small caravan for so long with such a limited offering so it really is something different. I've never worked in a professional kitchen so I've always been doing the menu designing rather than the actual content but it's really fun to be involved in that side of things.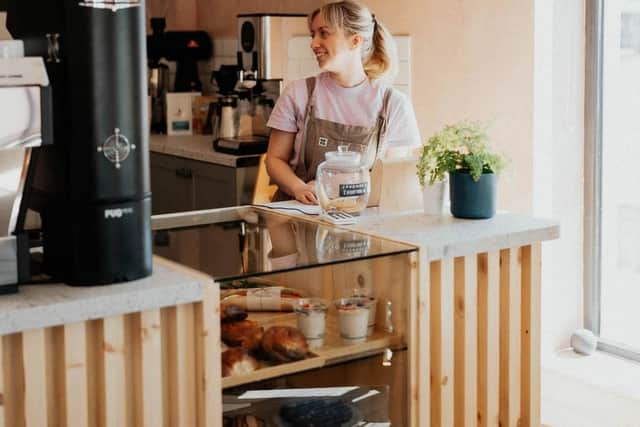 "The feedback has been really good so far, I think – I hope! Everyone's been so complimentary of the space, the destination and the atmosphere in here. To me, that's almost more important than anything else because I want to create a space that's really welcoming and friendly, where people can come in and enjoy a bit of an escape. A lot of people have been saying that it almost doesn't feel like you're in Derry because it's such a little sun trap. Being right by the river is lovely, too, because for a city that's surrounded by water, there's not a lot of places here that are actually on the river and making the most of such a nice view.
"One thing about the new place that I'm struggling a bit with is that it's been too busy to stand and have the conversations that I would have had in the caravan. At the caravan, I was so lucky to get this insight into peoples lives and people were so open to talk to me. I would sometimes have conversations with people on the worst day of their lives so you're privy to being that listening ear and being there for them. Some older people might come along and I could be their only conversation they've had that day or people would be telling me about the craic in their office and I was always so grateful to have those moments. I only get those moments now between 8am and 9am when it's quiet but that's just an adjustment I have to get used to.
"I would love to give a massive thank you to Destined, who have been amazing. They took a bit of a chance and a risk on me, someone who just had a caravan in a field, so that's been incredible. I love being able to work so closely with them and I'm really looking forward to having a great relationship with them over the next couple of years, they've been so helpful so far.
"None of this would every have happened without my previous landlords in Milltown Farm, who really took a chance on me. There was no task that was too much of a burden to ask them to help with in the beginning. If the generator had have broken down, they would have been there with tools helping me out. They would have done milk runs for me and they were really excited and keen to help in any way they could. They're in here now nearly every day buying coffee and seeing how far we've come and it's just great. My mum and dad and close circle, none of this would have happened without them chipping in and doing a lot more than they ever would have wanted to!"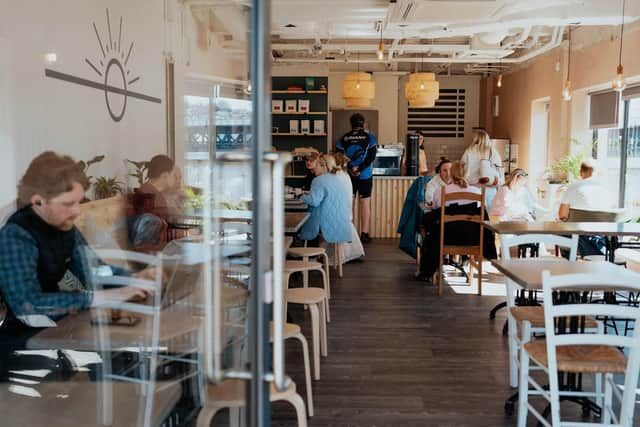 So, what advice would Stephanie have for other people wanting to start their business?
"If you can't stop thinking about it, then just go for it," she said. "Try not to do it way above your means, I started small with very small risks. I could never have started out with what I have now. Having the two years behind me, there's so many little things you're learning along the way that you don't even realise or recognise. Jumping straight in with this café would have been so overwhelming. There was so many times over the two years that I was looking at other businesses and thinking it would never happen to but but you just have to stay patient and trust the process. There's so much help and support throughout the Council and the programmes they have to encourage people to do that and to do it efficiently and wisely."
Offing is open Wednesday to Friday, 8am to 4pm and Saturday and Sunday 9pm to 4pm in Destined on the Foyle Road. For more information, search Offing Coffee on Facebook or Instagram.