Fundraiser set up for 'loveable' Derry dog who needs surgery on her legs
The North West Animal Welfare Group are trying to raise £5,000 for Honey, a 'beautiful' yellow labrador who needs surgery on her legs.
Published 27th Mar 2023, 11:58 BST

- 3 min read
Updated 27th Mar 2023, 12:29 BST
Honey was born with a bilateral grade 3 medial patellar luxation, and significant bilateral distal femoral varus, which means her hind knees keep dislocating and she is unable to walk or stand comfortably. At only nine months old, Honey is in significant pain and was at risk of being put to sleep before Mel McKee, a volunteer with the North West Animal Welfare Group, stepped in to get Honey the help she needs.
Mel said: ""Honey is the sweetest girl ever, she's just so good. She is able to walk for small bits, for about a minute and then one knee dislocates and it becomes very painful. When they both dislocate, she lies on the ground and they have to be massaged back in. She'll stay down for a bit but then she's away running and they dislocate again. What Honey has, most dogs only get it in one leg but she has it in both. She has arthritis too which has been causing her lots of bother."
"Honey is just a darling. She's that good that the vet in Belfast absolutely fell in love with her, so much so that he's applying to get financial help for her too. With our vet, she was diagnosed with grade two and grade three luxating patella and possible cruciate ligament. It was going to be around £3,500-£5,000 for both legs. There's a scale for level of bowed-ness for her legs but, when she got CT scans, they found that she was actually off the scale. She has to go and get the second operation now before she gets the luxating patella sorted out. She also has a grade three in both legs now as well because when one dislocates, she has to lean on the other and is making it worse."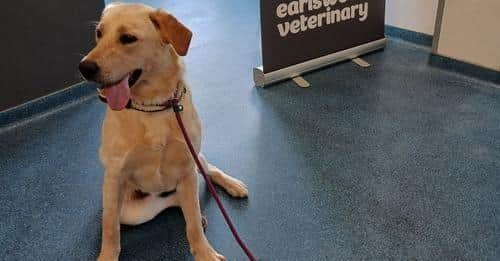 Honey's treatment will cost around £7,000 but the charity are able to cover some of the costs themselves. The North West Animal Welfare Group have a charity shop in Limavady and also receive donations from the public but they are classified as a 'Helper Charity', which means they are required to give the majority of their money away to other organisations.
"The funding is not there for us – if you look at the schemes available, there's only a small few that animal charities can actually apply for. There's no help for rescues at the minute. It's not fair and I don't know what has to happen. People working in rescues don't get to clock off. I can't remember the last time I had a day off and that's the God's honest truth. Somebody has to do it but you would expect some more help from the government. Our vet gives us discount and we have a wee charity shop in Limavady, which helps with our bills, but when it comes to big ones like Honey, we're stuck."
"We're very busy at the minute," said Mel. "It's probably the worst I've ever seen. On top of that, around 90% of the animals coming into us have problems. We're very lucky if an animal coming into us doesn't have medical or behavioural problems. I blame lockdown and every rescue will tell you the same. The greed over lockdown was insane and people were paying huge amounts for dogs."
Honey is also available for adoption although nobody has made any enquiries about her yet. Mel isn't worried about Honey's future home, however, and says she will stay under their watch until the perfect family comes along.
Mel said: "Her foster family are more than happy for her to stay for the duration of her operations and recovery and they are in no rush to have her be adopted out. If she has to become a long-term resident with us, she will."