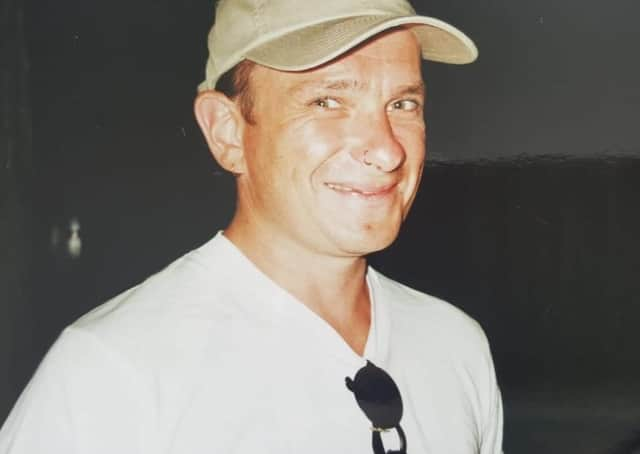 Freddie Tully. Picture: The Glen Bar
The Carndonagh man was laid to rest last week following Requiem Mass in Sacred Heart Church, Carndonagh.
"A quiet and sensitive man, yet good fun," Freddie tragically died following a collision involving his motorbike in Cavan last weekend.
At his Requiem Mass, where numbers inside were limited due to Covid 19 restrictions, but which was watched by many online both nationally and internationally, Father Con McLaughlin said Freddie's death had created a 'great sense of loss and sadness.'
A tribute in the church. Photo: Outlaws MC Ireland
Fr McLaughlin remembered and said prayers for Freddie's mother, Pat, who was in hospital after falling ill when she learned the news of his death. Prayers were also said for his sister, Anne and extended family who have been left 'heartbroken.'
The community too, said Fr McLaughlin, had been left 'shook' by the tragic death of a popular parishioner.
Fr McLaughlin told how Freddie spent 21 years in the Irish Armed Forces and motorcycling was one of his great interests.
He added how 'we trust in God' that Freddie is in Heaven with his late father, also called Freddie, his two brothers and son and that they are 'all united in peace.'
Fr McLaughlin told mourners how, when he looked at Freddie's coffin in the church on Tuesday night, he thought of the times when he'd be driving and bikers would 'whiz past.' He said that while you's 'get that initial startle, you'd admire their skill and everything that came with it.'
He added how he 'began to understand' on Tuesday night what 'it is all about.'
"It's about a fraternity, a loyal group of people, not just nationally, but internationally, who have a common interest. That brings me back again to Freddie. I was told he was a quiet and sensitive individual, but good fun and that's where he would have found that great sense of camaraderie with the bikers. So, as he headed off last Saturday from his home in Pound Street little did anyone know this would be the result. He headed off on his big 1600 Harley Davidson to meet with his friends, the bikers and the result was tragic."
A fellow biker presented a motorbike jacket, emblazoned with the name of his club 'Outlaw MC Ireland' as an offertory gift during the Mass.
Fr McLaughlin told how Freddie worked with Cuddihy Engineering, where he was 'well respected and loved'.
He told too how, as he looked at Freddie's coffin, he was reminded of road safety adverts on TV where you 'don't notice a person's face as it's covered with a visor.' "And then, in the ad, they take off the visor and say he's someone's brother, husband, son and as I looked at the coffin, this came very much to the fore with me. I said yes, that's the face of a son and brother, an uncle, a friend. So what we ask of the Lord today, we ask and pray on His name to pray for the safety of all those who take to the roads and particularly for the bikers."
Fr McLaughlin also prayed for consolation for Freddie's family, who are 'broken hearted.'