LegenDerry Motor Show to return to St Columb's Park this Sunday
The LegenDerry Motor Show will take place on Sunday, September 24 in St Columb's Park and this year, they'll be dedicating their special 11th annual show to the memory of car-lover Given Gillespie.
Published 19th Sep 2023, 10:51 BST

- 3 min read
Updated 19th Sep 2023, 12:21 BST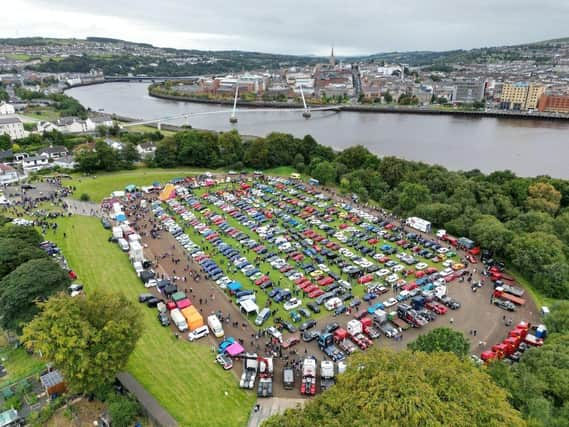 The Motor Show started during the City of Culture, in 2013, by Richard Gillespie after a family tragedy led him to organise the show.
Richard Gillespie said: "The Motor Show is about anything with an engine, whether it's a car, van, bike, tractor, truck or even boats and this year we are very proud to be adding the team from the Ulster Aviation Society to our exciting line up as they will be attending with their Tornado Cockpit and Alouette III '202' helicopter. Staying with the aviation theme once again the Irish Coastguards Rescue Helicopter Rescue 118 will be arriving at the Show, the Ulster Gilding Centre are bringing a glider to the Show and the North West Model Aircraft Club will also be with us.
"We are also excited to have Country singer/songwriter Ritchie Remo to entertain us throughout the day as well as our Special Guest, online comedy sensation Fabu-D better known as 'Black Paddy'. All in all, it will be a fabulous family fun-filled day out and we're really looking forward to welcoming everyone to St Columb's Park.
"This year proceeds are in aid of charity Kidney Care UK who provide direct support to our local kidney patients and their families right here in the City and across Northern Ireland, both emotionally and financially.
Jo-Anne Dobson, who is a living kidney donor and NI Ambassador for Kidney Care UK, said: "I want to say a huge Thank You to Joanne and Richard and everyone who is helping to support local kidney patients as well as raising awareness about Organ Donation.
"None of the dedicated services we provide to local kidney patients would be possible without the terrific support we receive from the heart of the local community and that's why it was truly humbling to once again have this tremendous support from the fabulous LegenDerry Motor Show.
"Your support will enable us to continue to support local children, and adults who are living with kidney disease including funding the children each year to attend the Transplant Games. We also provide dedicated support including funding Shared Care nurses and Psychology Services at Altnagelvin Hospital and a Renal Counsellor in the Northern Trust.
"Please think about becoming a life-saver and have that family conversation about organ donation – we all have it in us to become a life-saver."
Richard concluded: "All types of cars, bikes, vans, tractors and trucks are welcome. As well as vehicles on display and our entertainment line up, we will also have a live arena where we will have stunt shows, falconry fly displays and a real life road traffic accident (RTA) scenario where the PSNI, Northern Ireland Fire and Rescue Service (NIFRS), ambulance and an undertaker all take part to help.
"To add to the excitement we have a 'Show 'n Shine' with a range of trophies up for grabs for different categories, live music, kids entertainment in the form of karts, bouncy castle and trampoline, a clown, a balloon modeller and Mickey and Minnie.
"We have a trade Village with various stalls and a raffle on the day. The Show will also finish off in style with a Convoy of the City. It's going to be a brilliant day of fun and showing off the best motors in the North West."
The Legenderry Motor Show will take place on Sunday, September 24 at St Columb's Park running track. More information on the show can be found on Facebook at @LegenDerryMotorShow