Lower income families in Derry struggle to buy healthy foods
Lower-income households in Derry City and Strabane are struggling to buy healthy foods as the impact of inflation sees the cost of their weekly food shop eat up almost half of their total income.
Published 26th May 2023, 12:27 BST

- 2 min read
Updated 26th May 2023, 12:27 BST
A new report by safefood on the cost of a healthy food basket has revealed some families in Derry City and Strabane spend up to £169, almost half (45%) of their take-home income, on food, with families with teenage children paying an extra £40 per week on food than those with younger children.
Inflation, soaring energy costs and the increased price of food over the past few years have been attributed to the pressure placed on low-income households and subsequently a more pronounced nutritional inequality among the Northern Ireland population. Recent data shows that grocery price inflation rose again and now stands at 15%, up from 13.8% in January.
FSA Director for Northern Ireland, Andy Cole said: "Tight budgets make it more difficult for households on a low income to eat well, potentially leading to health inequalities. The 2022 Food Basket research adds to an evidence base aiming to shape Northern Ireland's policies to address food need amongst the most vulnerable in our society."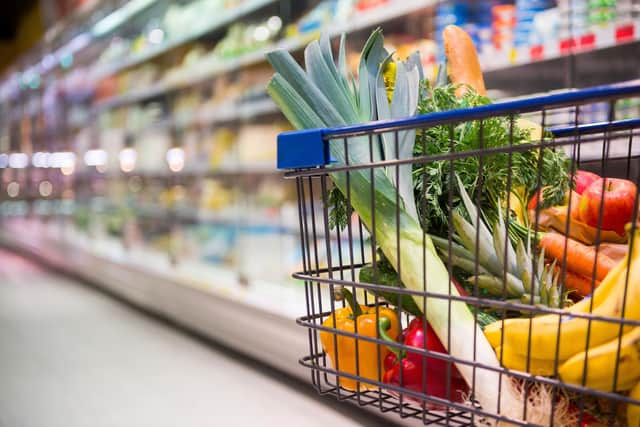 Dr Aileen McGloin, Director of Nutrition with safefood said: "Average food prices are now at their highest since we started this series of research in 2014. We're seeing a consistent pattern of households trying to balance buying an affordable food basket with other rising household expenses.
"With food shopping being the only flexible household spending, many families are being forced to choose cheaper and often nutritionally poor food items to keep food spending within their means and this is a really worrying trend.
"For all families with children, food is the largest household cost, and this has only been exacerbated by the rises we have seen in inflation in the past 12 months. Foods like meat, fruit, vegetables, dairy, bread, and cereals make up two-thirds of food costs for families and these foods have increased in price between 3% and 7% in the last two years."
The 'What is the cost of a healthy food basket in Northern Ireland?' report found that a two-parent household, who rely on benefits, with two children in primary and secondary school, their weekly food shop is £169 or 45% of their income. This represents an increase of 4.3% in their total food basket costs since the research was last conducted in 2020.
A food basket for a single pensioner living on their own has increased by 4.9% in the same period and costs them £64 per week, which is 29% of their income.
The contents of the food baskets in the safefood survey were based on menus put together by the households themselves. People selected an acceptable food basket in terms of taste and menu choices, while also meeting the social needs of a household, for example hosting visitors or special occasions like birthdays. The food baskets were reviewed by nutritionists to ensure they met the nutritional guidelines and then price-checked accordingly.
A summary of the report 'What is the cost of a healthy food basket in Northern Ireland?' is available to download from www.safefood.net/news.