Pascale Stevens exhibition opens in Derry this week
Artist Pascale Steven is preparing to open her new exhibition in Art Arcadia, located in St Augustine's schoolhouse after a three month residency.
Published 25th Apr 2023, 10:38 BST

- 2 min read
Updated 25th Apr 2023, 10:38 BST
Pascale's work reflects an ongoing interest in ideas revolving around identity and perception, the nature of memory and experience.
Pascale said: "My son Rónán McFeely created a soundscape so that was what I used as my starting point. The piece is very much influenced by recent personal and global events. It's a bit of a dream-like piece with little figures made out of soap inspired by little dolls called 'Frozen Charlottes'. The dolls were tiny, made of porcelain and are usually broken now because they're so old and often dug up from the ground. What I like about them is that their limbs don't move.
"I had quite a strong idea of what I was going to do here before I came. I often use furniture in my work and I wanted to create something that feels in disarray so I had intended to make a funeral pyre of furniture with the Frozen Charlottes in it. When I got the furniture, that changed because I didn't want to scorch any furniture or paint it black. These things grow and it changed when I got into the space."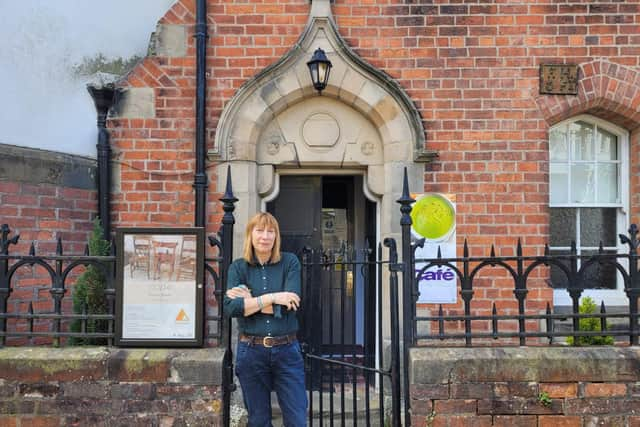 The exhibition features two rows of children's portraits stuck on the walls of the space and the furniture. Pascale created the portraits based on her friends and family when they were younger.
"These are portraits of children who don't exist any more," she said. "They've all grown up and some of them have died. It's a bit like after a disaster when people post up pictures of missing people. I've done a residency here before several years ago and I remember being quite moved by how many children are buried in the cemetery next door. I think the setting of this building and the fact that it's an old schoolhouse does seep into the work that is created here. In a way, my work is looking at what's happening in this world. All the things I've been experiencing over the last few years, through the lockdown, experiencing massive grief, and watching more horror unfold on the news every day, it has all been absorbed into this new body of work. I don't think it's an entirely bleak outlook, if anything, I think the work is an expression of love."
Pascale Steven's exhibition is open from Tuesday, April 25 to Saturday, April 29 12:00pm - 5:00pm in St Augustine's Schoolhouse, which is home to Art Arcadia. Pascale encourages everyone to attend the exhibition, to support the venue and all the work they do to support local artists, who, she says, are continually being pushed out of Derry to other cities with better artistic infrastructure.
"This is a fantastic place to do a residency," she said. "Absolutely wonderful. It's a lifeline for artists to have this place. It's a beautiful place to work with a lovely atmosphere."