Pretending to be Jennifer Lopez and finding a new love in dancing - Brooke Scullion talks 'Dancing with the Stars'
Derry's Brooke Scullion admits she was 'petrified' when she first started on RTE's 'Dancing with the Stars,' but is now 'absolutely having a ball'.
Published 7th Feb 2023, 16:40 GMT

- 3 min read
Updated 7th Feb 2023, 16:41 GMT
Brooke, from Ballaghy, has emerged as a firm favourite in the popular dance competition.
Speaking to the Journal after yet another intense day of rehearsals, the former Eurovision Song Contest star revealed she has found a new love in dancing.
"This entire thing has been incredible. I'm absolutely having a ball. At the beginning, I was petrified – scared beyond anything I've ever experienced before. But, now I'm at the stage where it's the most incredible thing in the world to be able to go out there and dance and not worry about singing. It's such a shift, but you're still doing what you love."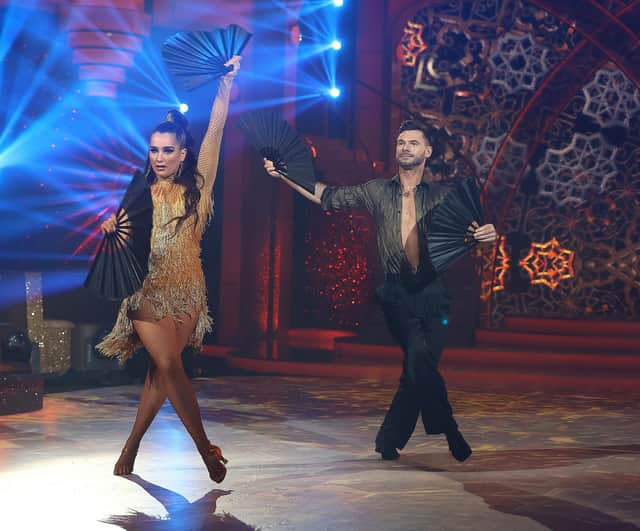 Brooke confirmed that, despite some online commentators stating she must be taking dance lessons outside the show, this is not true at all.
"I never danced before. It's so funny as all these articles online are saying I must take private lessons – I very much take it as a compliment, but I didn't!"
She outlined how, when asked to join the show, she just wanted to experience it.
She quipped: "When they asked me to do it, I thought: "I'm just going to be selfish and pretend that I'm Jennifer Lopez – I wanted to be more like JLo! That's why I took it on and all of a sudden I worked really hard and here we are now."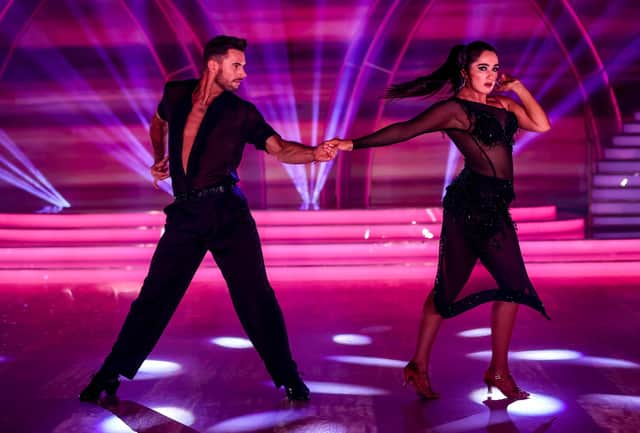 For the first few weeks of 'Dancing with the Stars,' Brooke danced with Maurizio Benenato. However, he had to depart and she was partnered with Robert Rowiński. She said their first dance was the most nervous she has been, but it's also one of her proudest moments so far.
"We only met on the Friday and had one day to practice. The fact we came out and did the Rumba, one of the most difficult dances and got what we did will always be one of my favourite memories from the whole show. I wasn't sleeping before it. I thought: 'We have no time, everyone else has trained six hours a day and we've six hours for the one dance,' but it showed me what I'm capable of."
Brooke hailed her fellow contestants and said they all get along really well.
"We all know how horrendously difficult it is, so you have to be in everyone's camp and root for everyone.
"When you're putting yourself out there and you're not a dancer, you can be humiliated and you really want everyone to do well. I don't know how the rest of them are doing it as, being a performer, that gives me a wee bit of like, an advantage, in terms of, if I mess up, then at least my face will look like I'm not! But my heart goes out to those who aren't performers and they're doing unbelievable.
"It's such a strong group and everyone is doing better every week."
Brooke is modest when it's mentioned that the bookies have her as favourite to win and laughs as she tells how she and fellow contestant Panti Bliss, who is also a favourite, 'keep each other going'.
"Panti is hilarious and we have the craic. It's lovely to think people think I'm going to do well, but I don't really pay much attention, really."
What she does pay attention to and is 'very grateful' for is the support of people across the country and in particular, Derry and the North West.
"I know people here get behind their own and it's just lovely. It's incredible to come from where I come from and get that local support. I know I'll always get that, no matter what happens.
"I'm well aware that no matter what I do it involves voting and money and cost and it means the world that everyone is supporting me. I just want to stay in as long as I can. I see every message and comment and it's amazing.