Queen's honours Derry-born judge
Queen's University in Belfast has today awarded an honorary degree to the Derry-born former Lord Chief Justice for Northern Ireland, Sir Declan Morgan, in recognition of his wide-ranging contribution to public service.
Wednesday, 29th June 2022, 11:26 am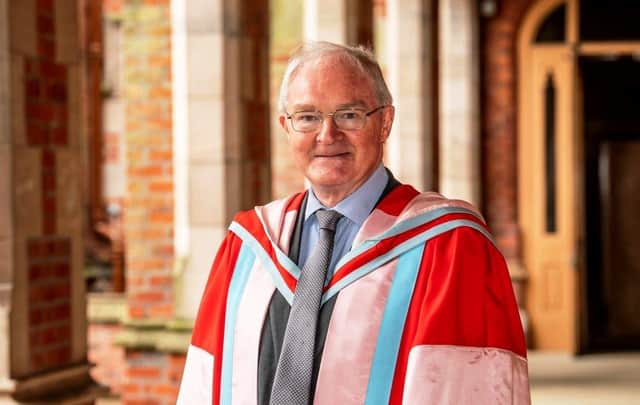 Sir Declan Morgan at Wednesday's graduation ceremony.
Sir Declan was honoured at a special celebration event at the university alongside graduates from Arts, Humanities and Social Sciences.
Educated at Cambridge University and Queen's, he was called to the Bar in Northern Ireland in 1976 and became a Queen's Counsel in 1993.
Sir Declan was Senior Crown Counsel for Northern Ireland between 2002 and 2004, when he was appointed to the High Court.
He is the former Chair of the Law Reform Advisory Committee for Northern Ireland and Chair of the Northern Ireland Law Commission. Sir Declan is also a former Judge in Residence at Queen's.
Speaking ahead of the ceremony, Sir Declan said: "I am delighted to receive this Doctor of Laws for distinction in Public Service from Queen's, an institution I have a longstanding affiliation with, as a student and Judge in Residence. My working life has focused very much on public service and I have welcomed the opportunity to make an impact on society."