Rebecca Browne was 'a beacon of light' who brought out the best in people
Rebecca Browne was remembered as a 'beacon of light' who brought out the best in everyone at her Funeral Mass on Friday.
Published 26th May 2023, 13:59 BST

- 3 min read
Updated 26th May 2023, 14:02 BST
Fr. Michael McCaughey told mourners at St. Joseph's in Galliagh that the loss of 'Becca' in a tragic car accident outside Buncrana in the early hours of Sunday was incomprehensible.
"Unexpected death hits all of us with appalling suddenness. For many of you, you still cannot take in the reality of the last few days," he said.
The 21-year-old hairdresser had had 'a place in the lives, in the plans and expectations of many people' but had her life tragically cut short when she was struck by a Garda car at Lisfannon.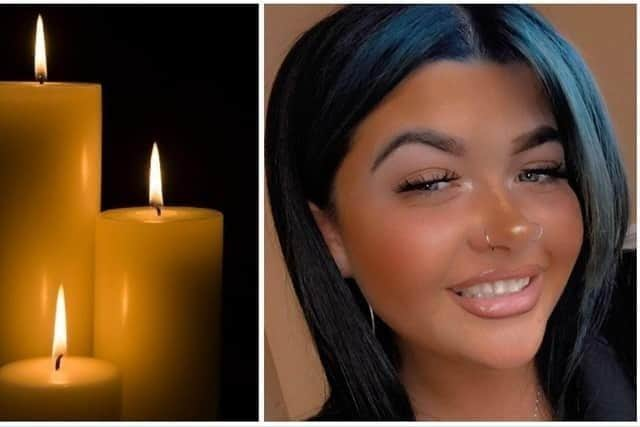 "Rebecca Browne was someone who radiated life and love in her own way. A people person, she brought out what was good in people," said Fr. McCaughey.
Chief among mourners were Rebecca's parents Lynn and Jerry and brother Ethan.
The congregation were told of a hard-working young woman who had graduated from St Thérèse's Primary School, St. Brigid's College and the 'Tech' to become a much sought after hair-dresser.
"She was impressive in her rapport with people from her friends to her clients in the hairdressers, from her wonderful care of little baby Rhianna to her care of her brother Ethan. Even at times they fought over the remote control.
"A sister caring for her brother. A daughter caring for her father, involving him in TikTok at times, and the simple kindness to a mum where they loved each other. She valued time. She valued people."
Rebecca loved music and her favourite song was 'Travellin' Soldier' by The Chicks.
"She enjoyed the company of people, that singalong that was important. It is worth noting that 'Travellin' Soldier' was the first song she was to learn and the last song she was to sing late on Saturday night.
"Becca loved music. Anything as long as it was loud. Music. Full blast."
Fr. McCaughey said Rebecca was a diligent worker and much respected.
"Her work was important. The skill and the gift of hairdressing. From an early age she made of herself a great reputation and the influence of those who taught her and the kindness of her clients through the years."
Mourners were told how Rebecca 'radiated a confidence...like a porcelain doll as someone described her'.
Fr. McCaughey ended his homily with a verse composed by Rebecca's aunt.
'Most angels shine in heaven, with a halo around their head.
'Rebecca's shall be glowing with a shining star instead,
'Because in life she was a beacon of light, the happiest and kindest soul,
'Loved by everyone she met, to sing and to laugh her only goal.
'And the life and soul of a party, so happy every day.
'A smile for ever on her face, she will be missed in every way.
'Stars will only twinkle beside her, she is the superstar up in the sky.
'Her light will shine in all our hearts and with every tear we cry.
A shining star of beauty Rebecca, you really were the best.
'Our broken hearts filled with memories of you and for that we are truly blessed.
'Keep shining down upon us, we will miss that special light.
'I know your face will paint our mind every single night.'