Three Derry cousins living six thousand miles apart reunite for 60th birthday
On Friday, March 15 1963, three births were recorded in the 'Journal'; two in Altnagelvin Hospital and one in Saskatoon. 60 years later, three cousins reunite in the Downings to celebrate a lifetime of love, laughs and companionship.
Published 17th Mar 2023, 12:38 BST

- 4 min read
Updated 17th Mar 2023, 12:42 BST
In the 'Births, Marriages and Deaths' section of the 'Friday Journal' in March 1963, the births read: MORRISON – 1st March, 1963, at Altnagelvin Hospital, to Kathleen, wife of Gerald Morrison, Victoria Park – a daughter (Breeda Marjorie) Deo gratias; McFADDEN – 21st February, 1963, at Saskatoon, to Marjorie (née McGettigan) and Dr. McFadden – a son. Deo gratias; McGettigan – 22nd February, 1963, at Altnagelvin Hospital, Derry, to Claire (née McGarrigle) and Dr. McGettigan – a daughter. Deo gratias.
The babies, who are first cousins, were named Breda Morrison (now Gaynor), Sean McFadden and Kate McGettigan (now Day) and their parents, Marjorie, Kathleen and Jim McGettigan, were siblings who grew up in Westland Villas. Breda's family stayed in Derry, where her mother Kathleen taught at the Waterside Girls School, and Kate's family moved to Saskatoon, in Canada, when she was young to join Sean's family.
Kate said: "Kathleen was the only one who stayed on my dad's side. We always said she was so lucky because she got to stay in Derry and my dad, who was a Derry man through and through, was sad to have left but, meanwhile, Kathleen was thinking 'they left me here!' Everyone's perception was so different."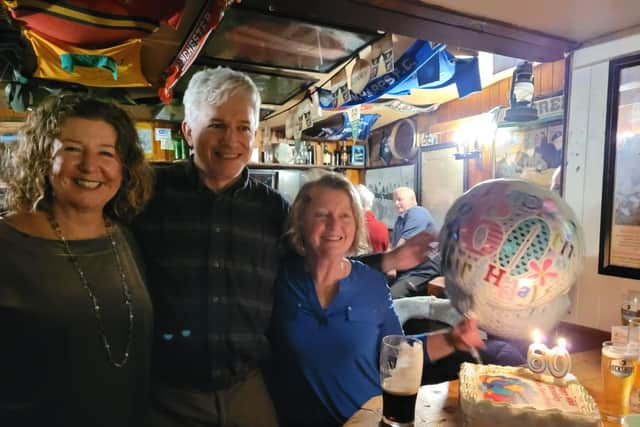 Kate's family moved from Derry to Ballycastle when she was very young, before her parents made the decision to join the McFadden's to make a better living.
"My dad was a family doctor and he felt that, in the climate of the north, he wouldn't ever be able to run a practice in there," she said. "My uncle Danny, who had moved to Canada, was a surgeon in Saskatoon, and had seen the opportunities here when socialised medicine was coming in. He arranged for my dad and our family to move to a small town three hours east of Saskatoon called Kelvington. We moved on Boxing Day, if you can believe it!"
"My dad had looked at a map and talked to his sister, my aunt Margerie and uncle Danny and right around where we were moving was Rose Valley and Greenwater Lake and Porcupine Plane – we thought it was going to be beautiful – and we arrived in the middle of winter when it was beyond cold! My mum's dad, my grandad, sent us to Canada with new boots and wool coats and thought that would do us but we had no idea how cold it would be!"
Although they were living over six thousand miles apart, the families managed to stay in touch over the years.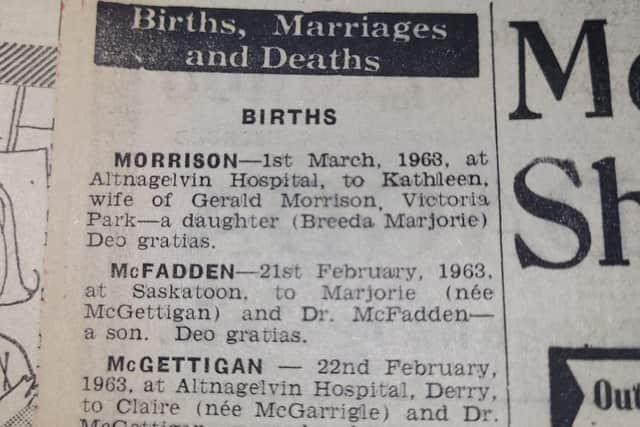 "We are so lucky because my Dad and Sean's parents prioritised family connections in Ireland," Kate said. "So, every second summer we spent six weeks with our cousins in Derry, Strabane, Donegal and Downings. My husbands Canadian and I'm closer to my Irish cousins than he is to his Canadian cousins who live in the same town!"
The cousins continue to make the trans-Atlantic trip to this day but, this year, they had an extra cause for celebration when Kate, Sean and Breda celebrated their 60th birthdays, marking 60 years of close family connections. The cousins celebrated in the Harbour Bar in Downings surrounded by their extended family.
"This idea came up this summer when Breda, Sean and I were in Derry and I thought 'let's just do this'. I thought it would just be my husband Bob and I because it's a lot to ask of people. Who wants to spend winter in the Downings? They did! It all snowballed, we had booked the flights and hotels were booked and Sean changed his vacation dates to be able to make it. I'm so grateful for them, the love is real. It was very emotional in such a warm way. It was so positive and I'm just so grateful for family.
"It's a holiday I'll remember; walking the streets of Derry with cousins and out for dinner, watching a Celtic match in Peadars and craziness in Sandino's. It was very moving to spend my birthday with my family. I'm so grateful they all showed up and we were able to show all the nieces and nephews and second cousins just how important it is to be connected that way."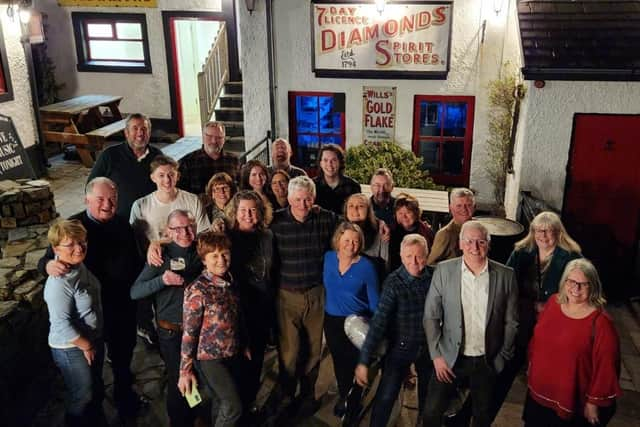 "My sibling and I, we continue to go over every year or every other year so we're so lucky to know them all and for them to know us. That's why turning 60 together was just fantastic. It was too good to be true. To be so happy to see each other and to just click and fall into conversation really reinforced how we lucky we are that our parents found it so important and now that's our job to make sure that the younger generations keep that up.
"What was so evident this February, was that all the effort and saving and traveling from Canada, and the Morrisons hosting, the McGettigan Siblings did for six weeks in the summers was validated and paid off in the close relationships the McGettigan - Morrison - McFadden cousins have now. And that was their intent, I believe"