'We will never stop honouring our Burkey'
Bronagh Burke is 'in the depths of grief,' but as the first anniversary of her beloved husband's death draws near, she is determined to honour him 'every single day.'
Tuesday, 30th March 2021, 2:09 pm - 6 min read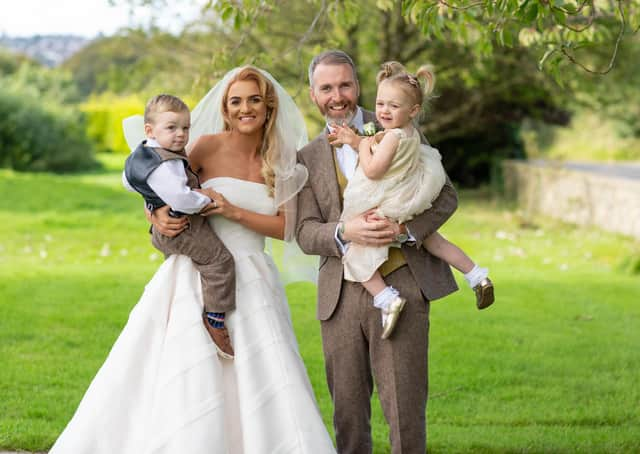 Bronagh and Thomas Burke, pictured on their wedding day with their children.
Thomas Burke, who Bronagh affectionately calls 'Burkey,' was just 29 years old when he died suddenly on April 23, 2020, after collapsing at home.
Described as a 'gentle giant,' he was father to twins Adam and Aoife, who are now four, and was a dedicated family man.
He was well known throughout the city and beyond, having been involved in football through most of his life, representing various clubs including Derry City, Institute, Limavady United and Ballymena United.
He was also 'leading figure' at Trojans Football Club where he enjoyed success as a player and coached the club's Under-5 and Under-6 kids.
His sudden death was devastating to his family, who also had to deal with his untimely passing as the world locked down due to Covid 19.
For Bronagh, who also lost her daddy suddenly five years ago, the last year has been a 'nightmare,' but she has been ensuring that her husband's name and legacy will live on.
Bronagh has opened up about her grief in a bid to not only help herself but also others who have lost a loved one. In doing so, she has received strong support and has shared her Burkey with thousands of people around the world.
Her Instagram page, 'Wee Burkes Journey' has over 17,000 followers and each Thursday, she posts a dedication to her husband. She has also taken part in online talks and podcasts and this Sunday will feature on the hugely popular podcast 'Death Becomes Him', hosted by Brian Dowling Gourounlian.
The podcast, which focuses on how talking is therapy and speaks to well known people about their journey through grief, recently reached one million listens in less than a year.
Bronagh told the Journal how she 'definitely agrees' that talking is extremely important.
"My mammy hit the nail on the head the other day, when she was saying how grief is an uncomfortable thing to talk about. It's not filled with happiness -although you might have had happy moments with that person, but grief, as a whole is an uncomfortable thing. And podcasts like Brian's, or opening up online, are needed.
"Even though I know grief, I've been in situations where I didn't know what to say to people who have lost someone. It's hard and I get that. But, while it might help your heart to talk to someone, the pain is never going to go away. You learn to adapt, because you have to. I put that on my Thursday post last week. They take me a full week to write as I really think about how I feel that week and what I'm going through. This week I spoke about being in survival mode. That's what this year has been about, survival mode. You get up and try to get on with it, the way Burkey and my daddy would have wanted, and be grateful for the days you have been handed, because you have no other choice. You either survive it or lie down to it."
Bronagh told how her children are the 'reason' she gets up 'every single day.'
"They are the reason I fight. They need me, as much as I need them. I have to get up every single day and they're my motivation."
She added: "Burkey would have wanted me to get up and do the things we would have done and give Adam and Aoife the best childhood they can get and deserve."
Bronagh said she often thinks about what her husband would tell her to do.
"I was with Burkey for 13 years - my whole 20s and the end of my teens were filled with him. When we had the twins it was the four of us and now it's just us three. That pain is always going to be there and I'm not just talking about myself, I'm talking about extended family too and everyone who loved him. We will always honour Burkey, every single day and acknowledge him. Burkey would have wanted us to fight on. It really is about survival mode and you have to fight every single day that is given to you."
Bronagh outlined how grieving while in lockdown has been 'absolutely horrendous."
"I haven't even met half the people I would have at a wake and funeral. There's more isolation and loneliness and that's really hard, as you're going through your own grief. Me, Adam and Aoife are getting help now, which is great, but that took months and months as you couldn't see anyone. We had to wait for the services we were crying out for. It has been really difficult. There's no point sugar coating it. I'm grieving my soulmate and they are grieving their daddy. And it has not only been difficult for those who are grieving, it has been difficult for everyone."
Bronagh added how she feels 'so much pain' for anyone who has lost a loved one over the last year and how their grief has had to take a different path due to Covid 19 measures.
The conversation around grief and dying, especially in recent times, is one that is slowly opening up and social media has become a platform.
For Bronagh, Instagram and the people she has met through there, have been a great support.
"I haven't really met anyone in my own hometown, of my age, dealing with what I'm dealing with. But, through Instagram, I've met amazing women throughout Ireland who are going through the same thing, like Lisa Colhoun, who is from Tyrone. She's a dote and there have ben many nights where me and Lisa have spoken at three and four in the morning, And there have been really hard times where she's been there. I'm also on Instagram talking about how I feel every week and it has really been a huge help."
Bronagh's honesty and openness has led to others sharing their grief with her.
"I had a girl message me the other night, with a really heartbreaking story. And it's horrendous that people are going through this, but it also makes you realise you're not alone. I may feel alone and I am more lonely than ever because of isolation, but you know you're not alone through grief."
Bronagh admitted how it never crossed her mind she would lose her husband at a young age. "I used to watch Rachel Gorry on Instagram. Her husband was sick and died at 29. I would watch it and say to Burkey: God, that poor girl." Burkey died just weeks after Rachel's husband.
"I thought my mammy was young when daddy passed - she was 52. We were both 29 when Burkey passed. I never thought I'd lose my daddy and Burkey within five years and this would be my life. I was saying in the talk with Grief Ireland, that you should never go to bed on an argument. And take each day you've been handed and be grateful for it. Even if it's a bad day, be grateful. Honour those feelings whether they are good or bad as you have to honour each day given to you. It's only when you go through grief and life experience like that you grasp on to every experience handed to you."
As Burkey's first anniversary draws near, Bronagh said she is 'trying to 'go on as he'd want me to'. "Exercise was a big part of our lives and I try to go out walking. It clears my head and helps me mentally. He'd have wanted me to push on. It's honestly taking one day at a time. I could be crying one minute and then laughing over something that happened five years ago the next. I just want to honour him. Even though I am and my family is in the depths of grief, every day I still honour him. I will never stop and it helps me through my own feelings knowing I can honour him like that."
As the twins grow, she sees more and more of their daddy in them. Adam loves his football, like his daddy and Aoife loves her dancing - something Burkey would take her to and encourage her in.
Burkey's 'amazing traits'
Bronagh said she hopes they inherit many of their daddy's 'amazing' traits. "He was just a gentle giant; the most caring soul you could ever meet. He worked in learning disability and was a kind and compassionate person. I hope to God Adam and Aoife have the same traits. Burkey would have taken the clothes off his back for you. He loved his family and friends and they were everything to him."
Bronagh said while she is not going to 'lie and say Adam and Aoife are doing great' following the loss of their daddy, they are 'happy children.' "We will never stop honouring their daddy. He deserves to be remembered and honoured, because he was such an incredible person."