Billy Moore 'surprised' at 'accusations' in Apprentice Boys motion, invites delegation to Mem'
The General Secretary of the Apprentice Boys Billy Moore has written to Derry City and Strabane District Council in response to a motion criticising the alleged behaviour of some participants in the 'Derry Day' commemorations last August.
Published 26th Jan 2023, 10:57 BST

- 2 min read
Updated 26th Jan 2023, 10:57 BST
In a letter to the DC&SDC Chief Executive John Kelpie, Mr. Moore said the Officers of the General Committee of the Apprentice Boys discussed the motion in November.
The motion – tabled by Aontú councillor Emmet Doyle and passed by the Council on September 29, 2022 – made a number of claims of anti-social behaviour alleged to have occurred around the Relief of Derry commemorations on August 13, which is the largest loyalist stand-alone demonstration in the world.
It proposed that the council 'write to the Apprentice Boys of Derry Associated Club General Committee expressing concern on behalf of many of our constituents'.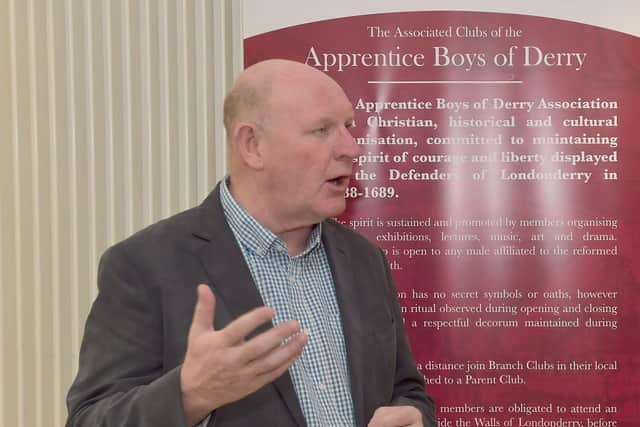 In a letter of response – published by DC&SDC on Thursday – Mr. Moore expressed 'surprise' at the 'accusations' on behalf of the loyal order.
However, he said the association was willing to meet with the council to discuss the content of the motion.
"The Apprentice Boys Association is keen to ensure the good relations we have created with council officials over many years are retained, and as such representatives are willing to discuss content at a time convenient to both parties," stated Mr. Moore.
He said 'ongoing and meaningful' discussions with the Bogside Residents' Group, chaired by the City Centre Manager Jim Roddy and a prominent local business executive, continue to ensure any issues arising from the historic Relief of Derry celebrations in August or the Shutting of the Gates demonstrations in December can be addressed.
"We have an agreement where difficulties that do occasionally arise are discussed in an amicable and mature manner and a positive resolution is arrived at," wrote Mr. Moore, who invited a delegation from the council to visit the Siege Museum and Apprentice Boys Memorial Hall.
"General Committee Officers will be pleased to conduct a guided tour of the museum and meeting rooms within the Memorial Hall. This may be followed with a general conversation where we will be pleased to respond to any further queries that require clarification," he wrote.