Crumbling wall and steps at 'forgotten street' prompt safety concerns
A resident of a prominent terrace opposite Brooke Park has warned that a dilapidated wall and crumbling flight of steps separating housing from the busy Creggan Road are public safety hazards.
Published 17th Mar 2023, 16:15 GMT

- 2 min read
The householder, who asked not to be named, told the 'Journal' that the street infrastructure at Ashfield Terrace and Kerr's Terrace is deteriorating.
"We really thought when all the work was done during the upgrade at Brooke Park a few years ago that some of the departments or the council would look at the state of the paths and steps here and the wall directly facing the park," he said.
"The steps are badly broken up and you just have to look at the state of the wall which is just a few feet from Creggan Hill.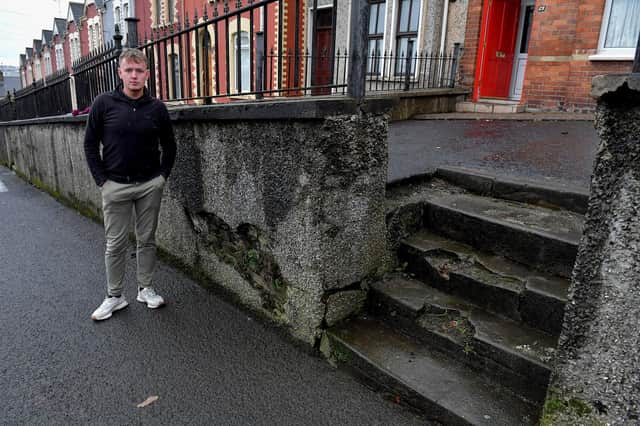 "I would appeal for help from whoever has a responsibility to look at this as soon as possible."
Sinn Féin MLA Pádraig Delargy says residents have described the terrace – which is located on one of the main arteries connecting the city centre with Rosemount, Creggan and the Hatmore and Hazelbank areas – as Derry's 'forgotten street'.
He told the 'Journal': "Residents are at their wits' end in trying to get a resolution to the problems with the walkways and steps right outside their homes.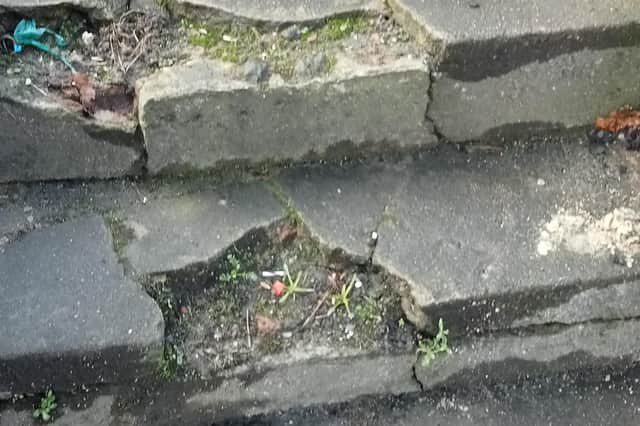 "Myself and Aisling Hutton have been speaking to a number of residents who are upset at the current situation and they have told me there have been problems with repair work and who is liable to carry out the work going back many years. They have said they feel like the 'forgotten street'.
"The steps are in a very dangerous state, plaster is falling off the walls out onto Creggan Road This is one of the busiest roads in the city with traffic and pedestrians.
"It's very dangerous for many of the older residents using the steps to go down the town, to Brooke Park or to Mass at St Eugene's Cathedral. It is also very dangerous for children playing around the steps."
A Department of Infrastructure (DfI) spokesperson said: "The Ashfield and Kerr's Terrace area of the city is not adopted and, therefore, not the responsibility of this Department to maintain."