'Windsor Framework' introduces green lane for goods, Stormont brake to stop EU laws and protects Union, claims Sunak
A new deal superseding the Brexit Protocol will eliminate red-tape on goods between Britain and the north and protect the union and 'sovereignty for the people of Northern Ireland'.
Published 27th Feb 2023, 16:51 BST

- 3 min read
That's according to British Prime Minister Rishi Sunak who said the fresh agreement reached between his Government and the European Commission marked a 'turning point for the people of NI'.
The 'Windsor Framework' was announced at a press conference with EC President Ursula von der Leyen on Monday.
Mr. Sunak said the accord marked progress on three fronts, the first relating to trade from Britain to the North.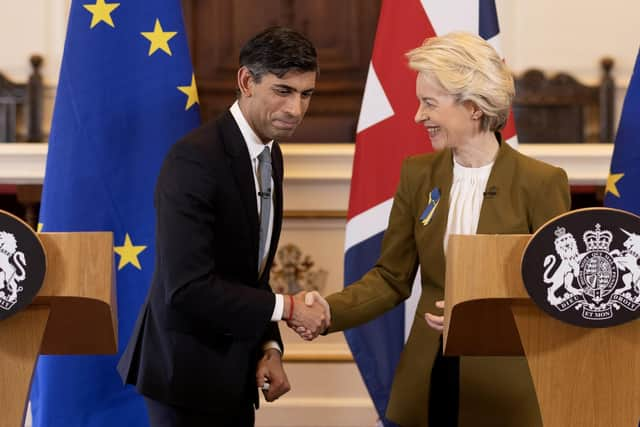 "First, today's agreement delivers the smooth flow of trade within the UK. Goods destined for NI will travel through a new a green lane with a separate red lane for goods at risk of moving onto the EU.
"In the green lane burdensome customs bureaucracy will be scrapped. It means food retailers like supermarkets, restaurants and wholesalers will no longer need hundreds of certificates for every lorry and we will end the situation where food made to UK rules could not be sent to and sold to NI.
"This means that if food is available on supermarket shelves in GB then it will be available on supermarket shelves in NI. And unlike the Protocol today's agreement means people sending parcels to friends and family and doing their shopping online will have to complete no customs paperwork. This means we have removed any sense of a border in the Irish Sea," he stated.
The Conservative Party leader claimed the framework 'protected NI's place in the Union' and that the legal text of the Withdrawal Agreement and Protocol has been changed.
"We have amended the legal text of the Protocol to ensure we can make critical VAT and excise changes for the whole of the UK, for example, on alcohol duty, meaning our reforms to cut the cost of a pint in the pub will now apply in NI. The same quintessentially British products, like trees, plants and seed potatoes will again be available in NI's garden centres; onerous travel pet requirements have been removed and today's agreement also delivers a landmark settlement on medicines. From now on drugs approved for use by the UK medicines regulator will be automatically available in every pharmacy and hospital in NI."
Mr. Sunak claimed the deal will 'safeguard sovereignty for the people of NI' by introducing a 'Stormont brake' that can be pulled if there is cross-party support for blocking EU law.
"Many had called for Stormont to have its say over these laws. The Stormont brake goes further and means that Stormont can in fact stop them from applying in NI.
"This will establish a clear process through which the democratically elected Assembly can pull an emergency brake for changes to EU goods laws which would have significant and lasting effects on everyday lives.
"If the brake is pulled the UK government will have a veto. This gives the institutions of the GFA in NI a powerful new safeguard based on cross-community consent."
He said he believed the 'Windsor Framework' marks 'a turning point for the people of NI' but recognised the political parties will now 'want to consider the agreement in detail, a process that will need time and care'.