Workers suffering lost decades with worst real wage stagnation since Napoleonic wars: Susan Fitzgerald
A leading trade unionist has said workers are suffering the worst period of wage stagnation since the Napoleonic wars and has forecast further co-ordinated strike action throughout 2023.
Published 2nd Mar 2023, 15:20 BST

- 2 min read
Updated 2nd Mar 2023, 15:41 BST
Susan Fitzgerald, a senior organiser with Unite, told the 'Journal' it is her view that 'organised labour' is the only remedy for what she described as 'organised greed'.
Ms. Fitzgerald said ordinary workers across every sector and industry have been suffering declining livelihoods for decades due to the devastation that has been wrought on real incomes since the time of the financial crash 15 years ago.
She said: "The Office for Budget Responsibility (OBR) made a point the other day that real wages are not forecast to return to their pre-2008 level until after 2025.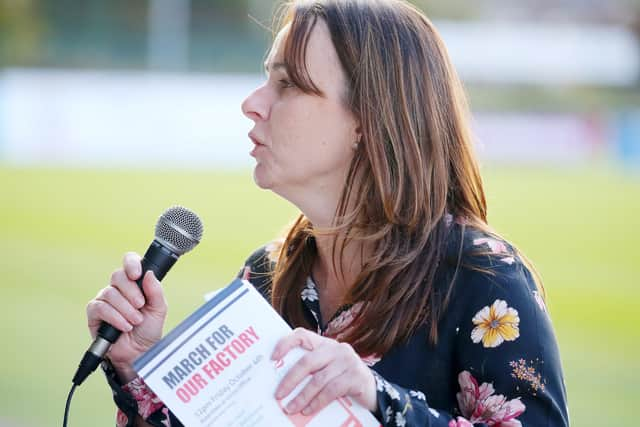 "That is a phenomenal wage squeeze. It is the longest period of pay stagnation since the Napoleonic wars and look at what that has done. That's not natural. It is organised greed."
She hailed recent joint demonstrations in Derry, across the North, Ireland and in Britain, which have been 'driving home the response that organised greed requires organised labour'.
"The health strikes and strikes in general are a battle to defend the health service for all working people and we can't take the foot off at any stage in the broader support for health workers who are at the front line trying to defend their services," she stated.
The Unite official pointed to further forthcoming planned co-ordinated demonstrations on March 16 as part of a level of sustained worker mobilisation that has not been seen for many years.
"All of us have to go back into our unions and where we have ballots, where we have strike action, manage it, and bring it together to make sure that we have a fulsome turnout of both public and private sector on that day.
"There is no shortage of workers taking action. There is no shortage of workers in dispute.
"You are always proud to see your own union banner flying but when you see every other union banner flying and workers turning out in their thousands you get a sense of the latent power that we have when we come together," she told this newspaper.