Live

This is a FULL list of WHERE mobile safety camera vehicles are in NI, including in Derry and Strabane.
If you ever wondered where the areas most likely to get your speed checked were, then look no further - Culmore Road, Dungiven Road, Clooney Road,Victoria Road, Magheramason, and Glenshane Road
Saturday, 12th June 2021, 11:00 am
Updated
Monday, 14th June 2021, 9:25 am
This ia a FULL list from the NI Direct website.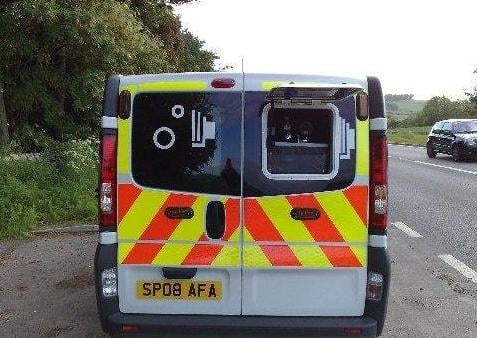 A roadside speed camera van. Picture: Johnston Press
This is a FULL list of where mobile safety camera vehicles are located in Northern Ireland.
Last updated: Thursday, 10 June, 2021, 15:07
Find out how many camera's you pass each day?
The mobile safety camera vehicles use the latest digital photographic and laser technology to accurately measure and record vehicle speeds.
The vehicles, which are clearly marked and highly visible, are used on the following routes throughout Northern Ireland.
A2 Bloody Bridge to Ballymartin - 30mph, 40mph, 50mph, 60mph
A25 Newry to Belleek - 30mph
Dublin Road, Newry - 30mph, 40mph
Dundrum Road, Newcastle - 60mph
Mill Hill Castlewellan - 40mph
Newry Road, Warrenpoint - 30mph
Castlewellan Road, Hilltown - 30mph
Rathfriland Road, Hilltown - 30mph
A29 Cookstown - Dungannon - 60mph
A5 Omagh Road, Ballygawley - 60mph
Glenshane Road, Maghera - 60mph
Magherafelt Road, Moneymore - 30mph
Woodburn Road, Carrickfergus - 30mph
North Road, Carrickfergus - 30mph
Prospect Road, Carrickfergus - 30mph
Shore Road Eden to Belfast - 30mph, 40mph
Cushendall Road, Ballymena - 30mph
Glenravel Road, Cargan - 30mph
Old Glenarm Road, Larne - 30mph
A26 Frosses Road/ Ballymoney - 50mph, 60mph
Moyarget Road, Ballycastle - 30mph
Lisburn and Castlereagh City
Comber Road, Dundonald - 30mph
Knockmore Road, Lisburn - 50mph
Saintfield Road, Carryduff - 50mph, 60mph
Prince William Road, Lisburn - 50mph
Saintfield Road, Lisburn - 60mph
Ballynahinch Road, Carryduff - 30mph
Cornagrade Road A32, Enniskillen - 30mph
A5 Doogary to Ballygawley Roundabout - 50mph, 60mphA4
Enniskillen - Lisbellaw - 50mph, 60mph
A4 Belfast Road, Maguiresbridge - 60mph
Killyclogher Road, Omagh - 50mph, 60mph
Belcoo - Lattone Road - 40mph
Main Street, Derrylin - 30mph
Culmore Road, L'derry - 30mph, 40mph
Dungiven Road, L'derry - 30mph
Clooney Road, L'derry - 50mph
Victoria Road, Magheramason - 40mph
Glenshane Road, L'derry - 60mph
A2, Sydenham Bypass (part of the Belfast to Bangor Road route) - limit50mph
A55 Outer Ring, Belfast (Parkway to Belvoir Road) - 30mph, 40mph, 50mph
Ballysillan Road, Belfast - 30mph
Castlereagh Road, Belfast - 30mph
Cliftonville Road, Belfast - 30mph
Crumlin Road, Belfast - 30mph
Falls/ Anderstown/ Stewartstown Road, Belfast - 30mph
Glen Road, Belfast - 30mph
Malone/ Milltown Road, Belfast - 30mph, 50mph
Springfield Road, Belfast - 30mph
Upper Lisburn Road, Belfast - 30mph
Antrim Road, Belfast - 30mph
Shore Road, Eden to Belfast - 30mph
Balmoral Avenue, Belfast - 30mph
Belmont Road, Belfast - 30mph
Blacks Road, Belfast - 30mph
Kings Road, Belfast - 30mph
Saintfield Road, Belfast - 30mph
Westland Road, Belfast - 30mph
Whiterock Road, Belfast - 30mph
Whitewell Road, Belfast - 30mph
Armagh City, Banbridge and Craigavon
A1 Sprucefield Roundabout to Lisnatierney - 60mph, 70mph
A3 Monaghan Road, Armagh - 30mph, 60mph
Armagh Road, Portadown - 30mph - 50mph, 60mph
Gosford Road, Tandragee - 60mph
A2 Belfast to Bangor Road - 40mph, 60mph
Bangor Road, Newtownards - 40mph
Donaghadee Road, Bangor - 30mph
Crawfordsburn Road, Bangor - 30mph
Donaghadee Road, Newtownards - 30mph
Find out where the cameras are
Ballyclare Road, Glengormley - 40mph
Dublin Road, Antrim - 60mph
Shore Road, Eden to Belfast - 40mph
Antrim Road, Glengormley - 30mph
Carnmoney Road, Glengormley - 30mph
Stiles Way, Antrim - 40mph