'Great showing' at Altnagelvin Hospital coordinated action on NHS Pay Day
There was a 'great showing' from all unions at Altnagelvin Hospital to demand proper pay rise at the April 1 NHS Pay Day of Action.
Tuesday, 6th April 2021, 1:50 pm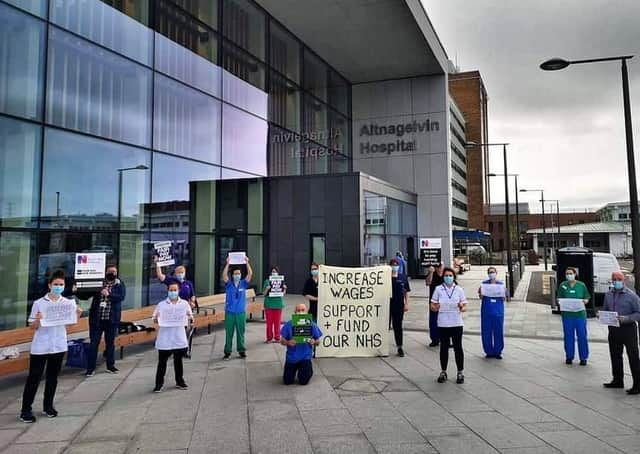 Councillor Maeve O'Neill with coworkers at Altnagelvin Hospital April 1 NHS Pay Day of Action
People Before Profit Councillor Maeve O'Neill, who was in attendance, outlined how all unions representing health and social care workers have unanimously rejected 'the insulting pay offer of 1%.'
"How quickly the Tories went from cynically clapping health workers to slapping them in the face with insulting pay offers.
"We're calling on everyone to support the demand for a proper pay rise. The coordinated day of action on April 1, and more to come, is crucial to let decision makers know we have not gone away and we will not go away.
"We call on everyone to back our nurses and all health and social care workers in their demand for justice and respect. We are united on the demand for respect and won't be divided.
"This is a fight for decent pay for us but this demand extends to all workers. It's also about safe staffing levels and saving the health service. All communities have a stake in uniting for pay justice and to stop privatisation of the NHS This is about workers rights and social justice for all."