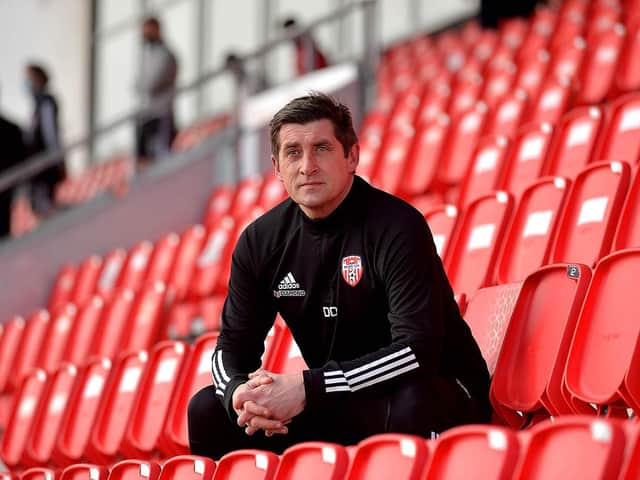 Derry City manager Declan Devine will be hoping his side avoid the type of mistakes which have cost his team dearly over the past three fixtures.
'We gave them two goals. They haven't laid a finger on us but we just made it so difficult for ourselves to win the match', was his assessment after the 2-1 home loss to Waterford.
Under pressure going to face an in-form St Pat's at Richmond Park on Friday night desperate to register their first points of the season, the last thing the City boss needed was to find his team down to 10 men with an hour to go!
'Self inflicted' was how Devine described it. Danny Lupano's senseless sending off left Derry with a mountain to climb against a slick Saints team who passed the visitors into submission.
Lupano was the recipient of a menacing death stare from Devine as the former Hull City defender trudged apologetically off the pitch having done the City boss and his teammates no favours whatsoever.
Derry never recovered and given the current run of form it didn't come as a surprise that their resolve was chipped away when Robbie Benson fired the Saints in front on the hour. Pat's boss Stephen O'Donnell felt Derry 'lost hope' after that goal went in.
While defeat to Longford Town was indefensible as Derry lacked aggression, intensity and creativity at Bishopsgate Stadium, there was a marked improvement in all those departments against Waterford.
However, it's remarkable how the defeats to Waterford and St Pat's hinged on critical moments in those respective games. In the 2-1 home loss to Waterford, ex-Blues man Will Fitzgerald missed a glorious chance with a free header moments before Nathan Gartside had a rush of blood to the head and conceded a penalty. Had Fitzgerald taken that gilt-edged chance in front of goal Derry would likely have gone on to clinch their maiden win of the season such was their dominance in that particular game.
Against St Pat's on Friday, Derry actually began the game with promise, unsettling the home side with their high press and aggression. The Candy Stripes had the two best chances during the opening 20 minutes from superb Jack Malone deliveries with Lupano sending his downward header the wrong side of the back post. James Akintunde's free header really should've found the back of the net but it was just another of those defining moments in the game.
Thirteen minutes later the entire complexion of the game had been altered when Lupano pulled Matty Smith's shirt. Referee Ben Connolly didn't need an invitation to go to his pocket!
There is no defending Lupano's rash decision but it has to be said the match official could have shown a bit of common sense and issued a public warning instead of flashing a yellow card for the defender's first foul of the match with just 10 minutes on the clock.
The notion that the outcomes of these games are determined by these high profile 'turning points' is not to say, of course, that Derry would otherwise have won the match. We simply don't know but Devine felt his game-plan was going well up until that moment. And the sending off certainly changed the pattern of the game and destroyed the psychological momentum of the Derry team.
'What are the chances of that?' Devine asked his bewildered coaching staff when the ramifications of Lupano's moment of madness sunk in shortly afterwards. When you're struggling at the bottom of the table luck often deserts you.
There has been redeeming qualities in the last two performances. Gartside, who was chief villain against Waterford, produced a string of fantastic saves against St Pat's to restore his confidence. Brendan Barr and Caolan McLaughlin have both made their senior debuts during the opening three league fixtures while Ronan Boyce came off the bench late on against the Saints on Friday night.
It's unfair to judge the team on this latest defeat given the thankless task of playing an hour with a man less than your opposition who are right up there with the League of Ireland's possession kings. St Pat's stretched Derry across the pitch, probing until they got a fortunate break of the ball inside the Derry penalty area and Benson pounced.
It's Derry's worst start to a league campaign since 2003 when the Candy Stripes lost their opening four fixtures. Strikingly that campaign also began with an opening day defeat to Longford Town - a 3-2 loss at Brandywell and the run ended after a resounding 4-1 defeat to St Pat's at Richmond Park! Of course that season also ended with that dramatic Liam Coyle winner in extra-time against rivals Finn Harps in the relegation/promotion play-off final. Let's hope Derry can avoid a similar fate this year.
In the 1997/98 season the Brandywell club recorded just one win in 13 in all competitions and went on to finish that campaign just one point above the relegation play-off position.
Avoiding defeat against champions Shamrock Rovers on Tuesday night will ease the pressure and avoid equalling that horrendous four game losing start to the season 23 years ago.
Devine claims he's seen enough in training every day to have the belief this bunch of players can bounce back but the longer this winless run goes on, the more difficult it will become to get out of trouble.
What better way to boost morale than a victory over the reigning champions?